International Maritime Bureau's
Live Piracy reported that an
oil tanker was boarded by pirates
west of Pulau Kukup, Malaysia.
On Thursday, November 7, around 7:30 pm, ten men,
armed with guns
and knives attacked a Panamanian flagged vessel. The members of the crew were held in a cabin, all tied up.
The attackers forced the Master to reposition the vessel to a predetermined position, a tanker with orange hull was waiting there. According to the International Maritime Bureau's Live Piracy report, the pirates stole the gas oil cargo by ordering the Chief Officer and the ship's bosun to use all pumps, mooring winches and valves.
After taking all the gas oil cargo, the pirates also took all thee belongings of the crew members, but no man was injured during the attack.

This is the fourth incident related with pirates for November.
On November 6, near Mombasa, Kenya a skiff attacked a product tanker. The pirates were five and armed. The tanker raised an alarm and sailed with higher speed. The people onboard were alerted and the crew informed the authorities. When the attackers fired at the vessel, the fire was returned and that made them abort the operation and leave.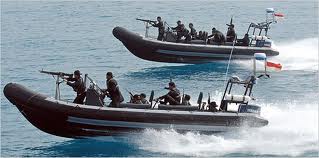 On November 4,at the Belawan Anchorage, Indonesia, two boats made an attempt to robe a chemical tanker who was anchored. They tried to board using the anchor chain when the duty crew spotted them. They were hiding their second vessel close to the propeller and when the crew turn it on, the pirates aborted the attack stealing only some anodes from the hull. The crew informed the Port Control.

On November 2, at the
Sagar Anchorage
in India, an anchored container vessel was boarded by armed men. They tried to steal the stores of the vessel but were spotted by the D/O. The alarm was raised and the fifteen robbers escaped by jumping overboard.