On Sunday, the
US navy
was joined by a new ship
USS Gerald Ford
. USS Gerald Ford is now the
most advanced ship
of that kind, ever built in America.
The ship is the first ship from a class of nuclear powered carriers. USS Gerald Ford will provide capacity for a higher number of fighter planes, and further more, the planes will be flown in the sky more quickly. In the air wing, USS Gerald Ford, will also able to use a unmanned aircraft. The designs of aircraft carriers haven't been changed for about 40 years. USS Gerald Ford, has broken the tradition and will join the US navy in 2016.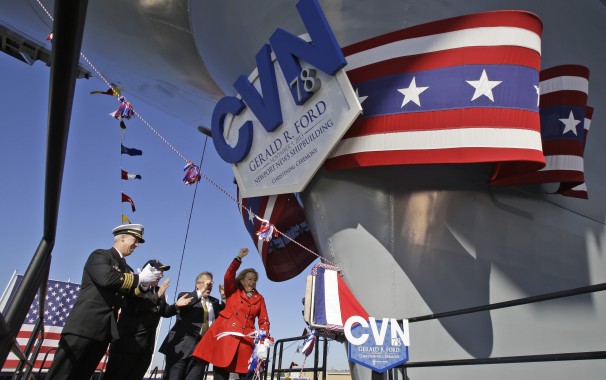 The chief of Naval operations Adm. Jonathan Greenert, was pleased to comment: "She is truly a technological marvel" during the ceremony that was broadcasted via the Internet. The ceremony took place at the shipyard of building USS Gerald Ford, the Newport News. Adm. Jonathan Greenert added that the ship will have the potential to "carry unmanned aircraft, joint strike fighters, and she will deploy lasers."

USS Gerald Ford is named after the US president Gerald R. Ford, was served onboard of a US navy aircraft during the World War II, as a lieutenant commander, and quite often shared details about his experience in the Navy, with notable nostalgia.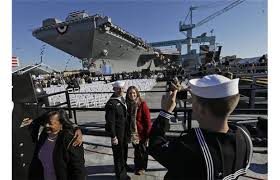 The daughter of Gerald R. Ford, Susan Bales Ford, was honored to be the sponsor of the ship and smashed a bottle of sparkling wine in the ship's hull.
USS Gerald Ford, will have a
nuclear power plant
and electromagnetic catapults and a flight deck of 5 acres. Next week, the aircraft carrier is going to Newport News Shipbuilding. According to the Navy the construction at the moment is 70% completed and that it should be ready in 2015. After the ship is built, she will have to pass standard sea trials and will join the
US Navy fleet
.