U.S. State Department
announced this Tuesday, that the
two American sailors
that had been
kidnapped
by
Nigerian pirates
, that attacked their ship the previous month were
freed
.
On the 23rd of October, Nigerian pirates armed with fire weapon, attacked the American registered, 222 ft (67 meter) long ship C – Retriever. The American citizens that were taken hostage were the captain and the chief engineer of the ship, that is owned by Edison Chouest Offshore, an US sea transporting group.
A representative of the US State Department welcomed the release of the 2 American citizens, taken hostage by the Nigerian pirates but added that at the moment they will not share any further details due to "privacy reasons".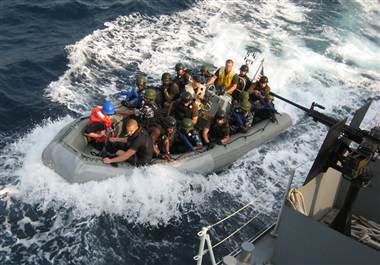 The case with the 2 American sailors is far from being uncommon in Nigeria. In 2013, pirate assaults in Nigerian waters have increased with more than 30%. Vessels passing through the main trade route round the West African Gulf of Guinea are attacked more and more often by armed pirates trying to take advantage of ship loads and men.
Last month the White House expressed its growing concern regarding the increasing number of pirate attacks in West African waters.
Piracy in the West of Africa is not similar to the already popular piracy, on the Eastern side of Africa, off the coast of Somalia. Somalian piracy is now opposed by onboard armed security, further more pirates there have to attack speeding vessels while in West Africa, ships need to be anchored for commercial purposes with still no substantial guard.
Therefore, ships in West African waters are more vulnerable and swells expenditures for insurances, as sailors and oil workers are usually taken hostage to be exchanged for money.
The State Department statement declares that:

"It is the policy of the United States not to pay ransom or encourage the payment of ransom money."