Transporting light rail metro vehicles across the globe is no simple task, but it is a lot easier when you have a direct liner service and can roll the vehicles straight on to the vessel.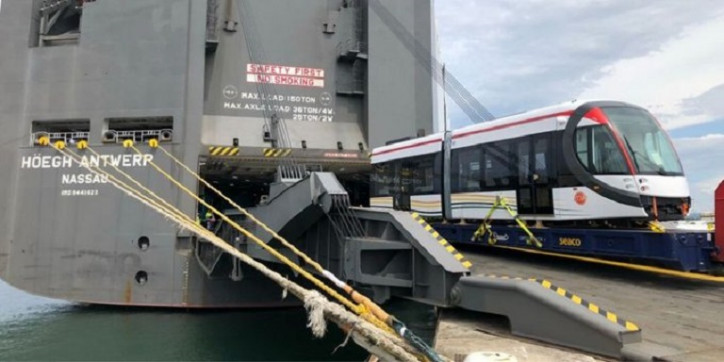 This is not any rail-project but the return of the rail service to Mauritius, after it closed in 1964. A prestigious project, involving transporting 18 Light Rail Vehicles (LRV) from Spain to Mauritius, where predictability and cargo safety is key.
The world-leading manufacturer of rail cars; Construcciones y Auxiliar de Ferrocarriles (CAF), produced the units in Spain and DSV was their designated project cargo forwarder to take the LRVs to Mauritius. 
"We have successfully transported train projects for CAF before and when DSV approached us with this opportunity we were glad that we could offer a direct service from Spain to Mauritius", says Iñaki Echeverria, Head of Sales in Spain.
Only RoRo service to Mauritius
Timing is critical in these projects. With the Light Rail Vehicles manufactured in CAF's factory in Beasain, Spain and Höegh Autoliners offering the only direct RoRo service from Santander to Port Louis, this proved the perfect fit for the customers' schedule.
Iñaki explains, "We are well recognised in the market for being the only RoRo carrier offering a direct service to Mauritius from Europe. With the customer requiring a timely solution for their project, we were able to offer the best option."
Previous experience with CAF
This is not the first project Höegh has worked with CAF on. Last September, six Light Rail Vehicles were transported from Santander to Newcastle, Australia to improve the city's Light Rail Network.
In 2016, Höegh Autoliners also shipped 60 CAF railcars from Spain to Colombia for the expansion of the Medellin Metro network.
Source: Höegh Autoliners