During a period of 35 days in Dry Dock, the cruise ship The World (see also CruiseMapper) went through an extensive refurbishment
Blue Water managed the entire logistics for this project, including consolidation in the US and Europe, as well as managing the ocean freight, road transportation, urgent air freight shipments and courier transportation.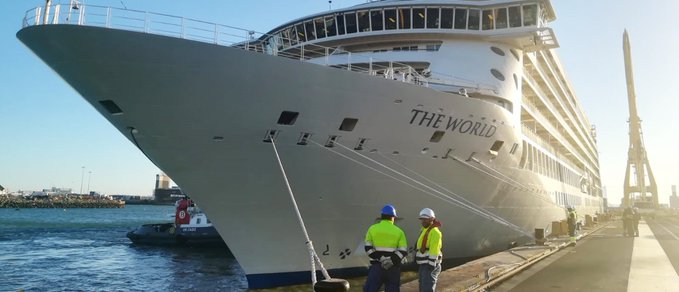 "We were very proud to be awarded this project and are very happy that everything went smoothly and the ship departed on time. The high quality and flexible service we delivered can only be accomplished by great teamwork, supporting IT systems and close collaboration with all the stakeholders related to the project", says Robbert Siegmann, Operations Manager, Cruise and Marine Logistics, Blue Water Rotterdam.
Additionally, Blue Water had three Cruise and Yard logistics specialist in Cadiz, managing the local warehouse and cooperating closely with the contractors, local authorities and the onboard staff.
"It has been a great experience for all of us to be a vital part of this project, and being on-site for 42 days has been a tough but also very fun and educational experience", says Bernat Cervera, Operations Manager, Cruise and Marine Logistics, Blue Water Spain. 

"Blue Water has been working in the cruise industry since 1999, and working in this hard demanding industry for +20 years has given us the knowhow and experience needed to execute a project of this magnitude", says Rasmus Øllgaard, Global Business Development Manager Cruise and Marine Logistics, Blue Water Miami.
Source: Blue Water Shipping