A small ship, which is a prt of the
Oil Free Seas Flotilla
is denying to to leave the site where
Anadarko
(Texas oil giant company) is intending to drill for oil in
New Zealand
. This happened just hours after 6 of the Greenpeace activists were freed from the Russian prison.
The Texas oil company was ready to start drilling for oil, using the Noble Bob Douglas ship at a 1,500 meters depth later in November. The Anadarko oil company also scheduled a 2nd drilling early on the next year, at 1,100 meters off the Otago coast.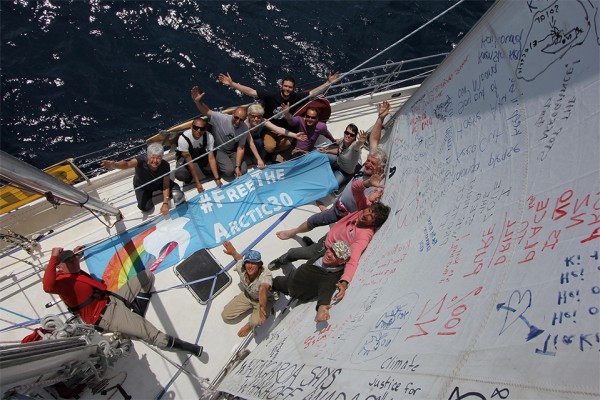 The Greenpeace vessel Vega is almost a mile off the ocean surface. Bunny McDiarmid, executive director of Greenpeace, is currently onboard the Vega ship and she is intending to give a children's flag to the offshore drilling vessel, which the EP contacted by radio.

She said: "The sailing vessel Vega will not be moving. We will stay where we are in defense of our ocean, in defense of future generations, in defense of climate. We have onboard a flag made by children that says 'I love my beach'. These children don't want oil slopping onto their beaches. We're here to deliver this children's flag to Anadarko's massive, untested drilling ship. Anadarko have consistently ignored New Zealand. They, and the government, have hidden vital information from the people of New Zealand. So let's see if they'll ignore our children."

It's illegal to interfere with any structure or vessel, which is currently in an offshore zone that's to be used in mining activities, with an exclusion area of 500 meters. It was the part of the new law, which aims to ban the aspects of protesting at sea, know as the "
Anadarko Amendment
," announced earlier this year.