South Carolina Ports Authority (SCPA) announced its 2019-2020 Port Ambassadors class, which consists of 25 delegates from around the state who will gain a deep understanding of S.C. Ports over the next year.
The Port Ambassador Program provides participants an inside look into Port operations through educational sessions and tours of oceanside terminals, inland ports, cruise vessels and manufacturing operations around the state.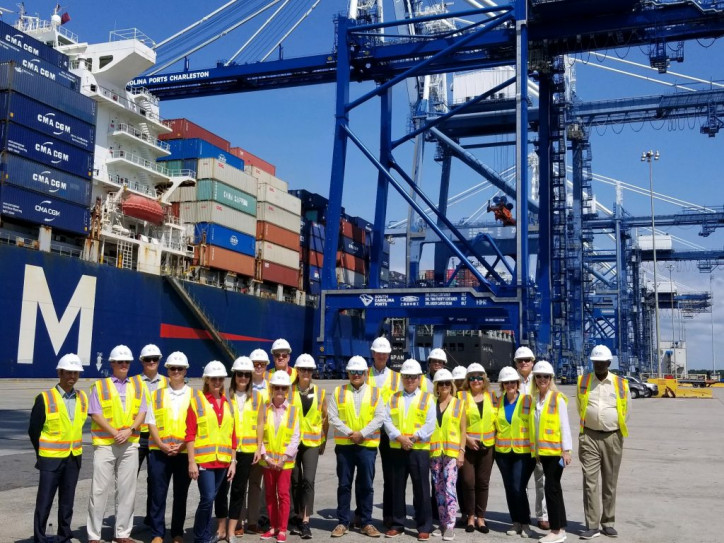 Ambassadors will learn how the Port supports the state's thriving business community and spurs economic development throughout South Carolina. SCPA operations generate a $53 billion annual economic impact statewide.
The new class of Port Ambassadors visited SCPA's headquarters in Mount Pleasant on Sept. 13 to hear about current infrastructure projects and day-to-day operations. The ambassadors also toured Wando Welch Terminal and ventured up 155-foot-tall ship-to-shore cranes.
Richard Blackwell, the Southeast vice president of development for Agracel Inc., said the Port Ambassador Program gives participants a chance to network and learn about S.C. Ports.
"During our first day together as a class, we toured the Wando Welch Terminal in Mount Pleasant and saw firsthand how the terminal operates. The experience gave me a new appreciation for S.C. Ports," Blackwell said. "It is impressive to see how global commerce and economic development work hand in hand through the Port."
SCPA launched the Port Ambassador Program in 2016 to increase public awareness and understanding of SCPA's strategic plan and to foster support for key statewide initiatives.
Participants are selected from nominations by the Review and Oversight Commission on the State Ports Authority, the SCPA Board of Directors and the SCPA Senior Management Team. Each program is limited to 25 ambassadors.
"We are thrilled to have such an esteemed and diverse group of South Carolina leaders participating in our 2019-2020 Port Ambassador Program," said Jordi Yarborough, SCPA's senior vice president of external affairs. "Our ambassadors will learn from experts in the maritime, logistics and manufacturing sectors to gain extensive knowledge of the Port's critical role in our state."
2019-2020 Port Ambassadors:
Franklin Adams, president and CEO of Adams Property Group LLC
Dan Battista, senior vice president of Lowe
Richard Blackwell, vice president of development, Southeast, for Agracel Inc.
Peggy Boykin, executive director of S.C. Public Employee Benefit Authority (PEBA)
Shannon Bruning, consultant with Burr Forman McNair
Hugh Buyck, attorney with Buyck, Sanders and Simmons
Jonathan Coleman, executive director of Laurens County Development Corp.
John Davey, director of quality and continuous improvement with MAU Workforce Solutions
Hunter Dawkins, director of development, natural resources, with Johnson Development Associates
Scott Garcia, senior vice president and regional banking manager of United Community Bank
William Andrew Gowder Jr., lawyer and partner with Austen & Gowder
Ann Grindstaff, retired CPA
Srikanth Kodeboyina, managing partner with Blue Eye Soft Corp.
Virginia Lee, senior vice president of First Citizens Bank
John Lummus, president and CEO of Upstate SC Alliance
Derek Mathis, senior vice president of Suncap
Robert Nutley, director of employer broker relations at HCA – Trident Medical Center and Summerville Medical Center
Anita Patel, international trade program manager for the S.C. Department of Commerce
Shaquite Pegues, director of Ella Baker Leadership Development and senior program associate at the Children's Defense Fund
Susie Shannon, president and CEO of S.C. Council on Competitiveness
Emma Shillman, catering sales manager at Hyatt Place + Hyatt House Downtown Charleston
Katherine Sosebee, business development at Turner Agency Insurance
Dalton Tresvant, deputy district director for the Office of Congressman James E. Clyburn
Cecil Williams, CEO of Cecil Williams Civil Rights Museum
Will Williams, president and CEO of Economic Development Partnership
Source: SCPA