Russia is ready to test floating nuclear power plants technology and introduced the first vessel of its kind Akademik Lomonosov. The first planned floating nuclear plant is expected by 2019. This nuclear technology in open sea is not developing in other countries around the world because of environmentalists trying to protect the environment.
Shipping company LLC Baltiysky Zavod Shipbuilding and the state-owned nuclear power firm Rosenergoatom work together to create Akademik Lomonosov but the whole process is not working as expected, there some minor technical problems at the Fukushima Daiichi Nuclear Plant in Japan.
The first vessel of i ts kind will be designed with eco architecture with a 2 small nuclear KLT-40 naval propulsion reactors delivering up to 70 megawatts of electricity. The amount of energy produced will give electricity, heat and desalinated water to a community of 200,000 people.
The project Akademik Lomonosov started in 2007 at the Sevmash Submarine-Building Plant in Severodvinsk. It is planned the vessel to cost about $232 million but when the vessel is ready will supply with electricity Severodvinsk town and Sevmash itself.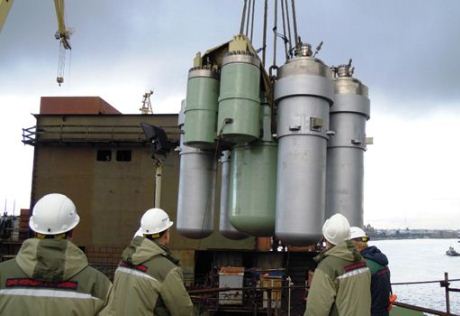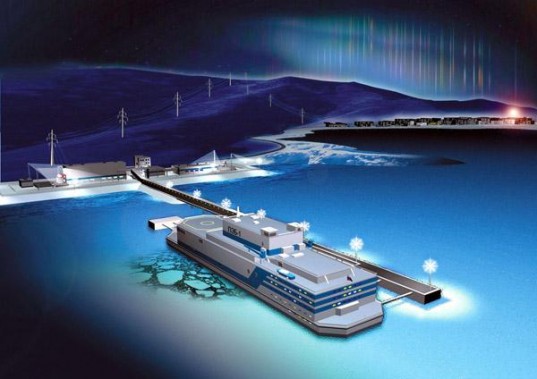 As everything goes to plan the 472ft vessel will be ready in 2019 and is planned to have 69 crew members monitoring the systems and the reactors.
What about the safety of this mobile nuclear device?
Russian icebrakers are using highly enriched uranium but instead using this technology the Academic Lomonosov will use lightly enriched uranium in order to comply with the regulations of the International Atomic Energy Commission. The rules are necessary because the nuclear fuel has not to be used for weapons or worse stolen.
The reactors will be protected against corrosion and any kinds of "disasters".
The main purpose of the floating power station is planned to produce electricity to specific customers in remote regions like the Arctic and let us not forget that in Russia there are many areas in the Far East plus the military bases that need energy.