The vessel "ATIYAH, George-Town" was detained with 5 people on board for carrying substance suspected to be cocaine with estimated price on the streets $50million. The ship was stopped on the high seas and was sailing to Ghana.
A Ghana Navy is patrolling of the high seas and is strictly searching for violations. It is told that Western Naval Command detained the foreign ship "ATIYAH" and 21 suspicious bags, for safety reasons the carrying cocaine ship was accompanied by Ghana Naval Ship Yaa Asantewaa to the Sekondi Naval Base.
The 5 arrested crew members and the cocaine have been sent to Accra for interrogations and was transported with a Military Helicopter. Ghana is a favourite location for transportation of cocaine by the gangs.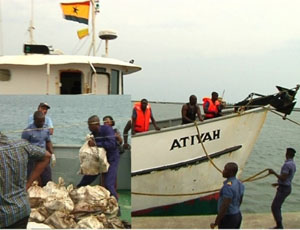 The Chief Operations Officer at the Sekondi Naval Base, one Captain Aidoo informed that there was an arrest of people of a fishing vessel transporting drugs. Additional details are not available due to the character of the crime. The crew members of the fishing vessel are Ghanaians and Indians, more information will be available after the substance is being investigated in Accra by the Narcotics Control Board (NACOB).
Africa is not a cocaine producer, but the arrests in the recent years shows that particularly the Western Region is playing an important role in the transit of the cocaine from Latin American countries to Europe. Information about the seizures is probably incomplete and many ships probably reach their destination without being detected.