A tow vessel
Stephen L. Colby
was leaking fuel as she submerged at LeClaire, Iowa in the
Mississippi river
, yesterday.
A team of professionals was requested to investigate the fuel leakage of
Stephen L. Colby
and her sinking at about 4,30 p.m. yesterday, November 25th.
USCG
along with fire departments and
LeClaire
police emergency responders worked together in effort to keep the Stephen L. Colby, 44-meters long tow vessel above the water level as it slowly sank in the river of Mississippi.
At the time of the accident onboard the Stephen L. Colby tow vessel were 9 crew members. All are reported to be safe, in good health condition.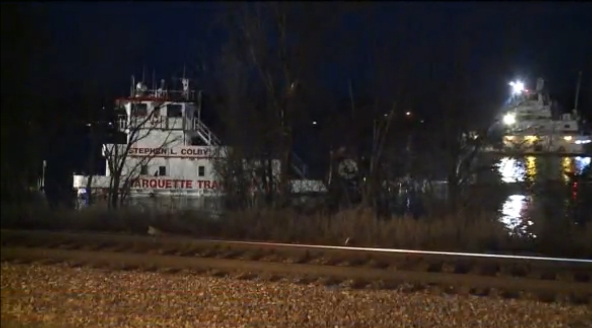 The tow boat Stephen L. Colby ran aground somewhere downstream where the ship's
hull was damaged
, told Shane Themas, Chief of LeClaire Police station. After taking on water the tow ship Stephen L. Colby sank near the shoreline of LeClaire in Mississippi river.
Crew members of the sunken Stephen L. Colby tow ship could probably smell the fuel leak in the river, but their efforts in the dark night bade it difficult to instantly see the location and amount of fuel, which was discharged.
"We can't determine how much, if any, is leaking at this point, but we're taking the precautions. We can smell fuel, so we're going to go ahead and deploy the booms to contain it if it were to leak or start to leak as more water enters the vessel," said Themas around 6:30 p.m.

Onboard the damaged Stephen L. Colby there were almost 89,000 gallons of diesel fuel and 1,100 gallons of gear lube, stated the Police Chief Shane Themas.
--- You can see the Photo Gallery at our Facebook page ---

Bettendorf Fire's Hazardous Material unit provided booms in effort to contain any potential of oil leak. Alcoa also assisted with necessary equipment to avoid
environmetal pollution
.
The
Mississippi river was closed
from marker 493 to marker 501 due to sinking of Stephen L. Colby tow ship, in effort to conduct cleanup and salvage operations.