CMA CGM has started and new program funded with US$500 million from Turkey's Yildirim Holdings. The new investment aim to expand the fleet of the company with 14% by 208,300 TEU and to make the total capacity of the the vessels owned by CMA CGM to 1,5 million TEU.
This amount of money is coming after a French sovereign fund invested also in the company. New orders for 6 16,000-TEU ships was planned to be smaller but in the end it was decided to be bigger. 3 of them already entered service. The rest of the vessels will be delivered in the last 3 months of 2015.
CMA CGM plans to order 10 9,200 TEU vessels and 3 2,100 TEU.
The company also planned new 5 post-panamaxes from Korea's Samsung Heavy Industries estimated to US$84 million (only the price of 1 ship). The total price is estimated $422 million by China's Bank of Communications Financial Leasing.
The capacity of the ordered ships are likely to be 9,000 TEU, planned according with the current trends of container trades due to its flexibility on north-south and South American trades.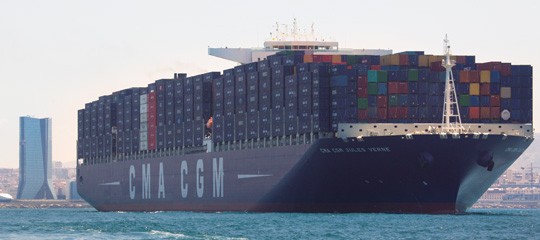 The French company CMA CGM has plans for its fleet in order to be part of the mega alliance with Maersk and MSC. MSC has rent for some of the vessels in its order book with ships with capacity 18,000 TEU and 9,000 TEU. In other hand Maersk is not ordering any ships for the moment after recent planned 10-Triple-E class ship 2 years ago. Triple-E class vessels are one the biggest ships in the world.
Background information:
Jacques Saade created the company CMA CGM in 1978. The French company celebrated for 35th time. The company is specialised in maritime transportation.
CMA CGM is one of the biggest leaders in the world and as serious business player in the maritime industry. The CMA CGM Group posted revenues of 15.9 billion USD last year (a 7% increase), show the fact that "family business" firms are efficient and plus that the French economy benefits also.