The dream for a floating CITY can become reality with the project Freedom ship. A Florida located company estimated the price for the project to $10bn if of course was given the project to be completed. The idea is 50,000-residents to live on floating CITY long at least 1 mile with own hospitals, schools, parks, airport and everything you can imagine. The Freedom ship is planned to be 25 storey with the capacity to house 50,000 people and even 30,000 guests.
The name of the project is prosopopoeia of what this construction represents, constant sailing around the world, the bad thing about the project is that the ship would be too big to enter a port in the world. The dream is never to stay at one place in order to prevent people living on it bored. If the project starts it will looks like a multi-storey car park.
The design of this wonder is made by the Florida located company Freedom ship and the construction is expected to weigh 2.7 million tonnes. Such big community will need energy? Yes, the project will use the solar and wave energy to deliver everything necessary to the passengers.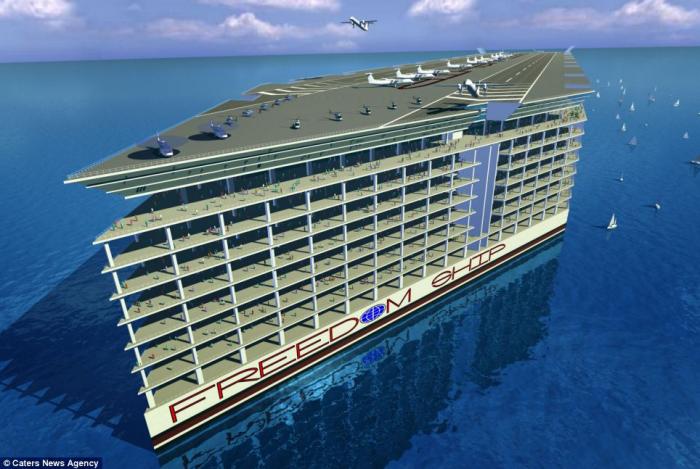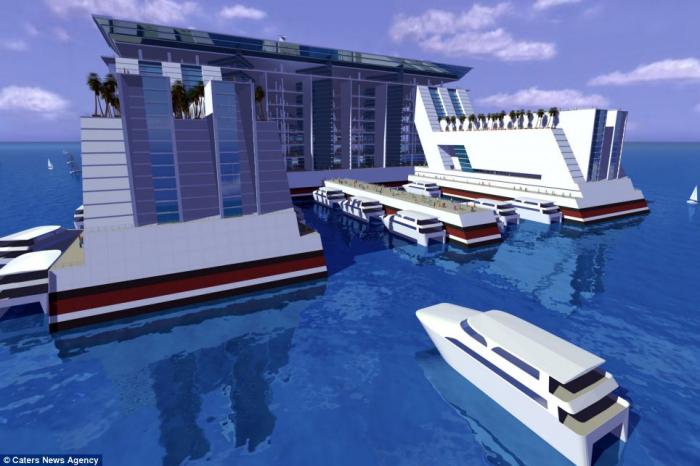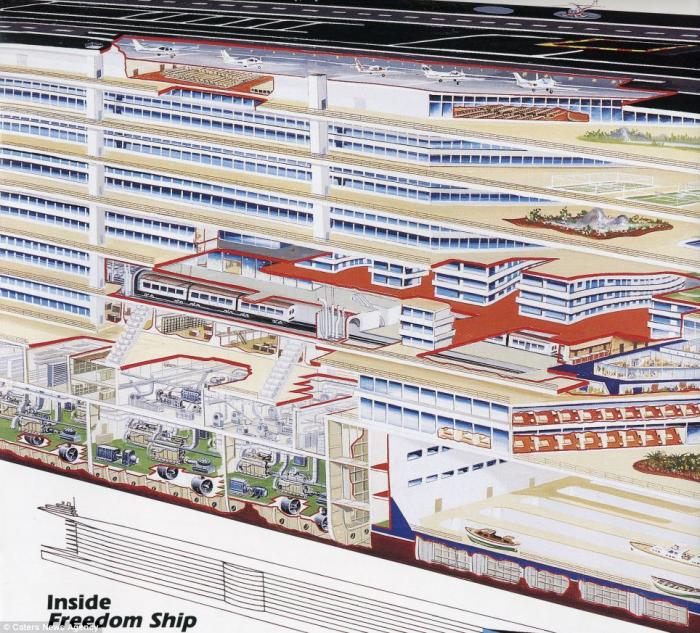 You can see now computer simulated images of what this project will look like. There will be enough room for 50,000 people with schools, hospitals, parks, aquarium, casino, shops, galleries and even airport with aircraft designed to transport up to 40 people.
The Freedom Ship will be the largest vessel ever built and will be in the same time the first floating city. The Florida based company needs to find only $6 billion in order to start the project which needed years of planning.
There is a problem finding the money at this time because of the world stagnation and economic crisis. Roger M Gooch, director and vice-president of the Florida-based company Freedom Ship International is positive and told that for the last half-year the project is receiving more and more interest. The ship is planned to stay 70% of the time anchored and the rest of the time will be travelling between countries. $1billion are needed for the start of the project Freedom Ship.
The planned route of the floating city is sailing from the east coast of the US across the Atlantic to Europe and into the Mediterranean, then turning back around the Cape of Good Hope at the tip of Africa and across to Australia. Sailing into East Asia, it would steer across the Pacific then at the end of the year on the west coast of North America.