Prelude
-
the world's largest mega-ship
has been floated out of the dry dock 2 days ago in South Korea. The ship is 1,601-foot long, even longer than the Empire State Building with 150 feet.
Shell
's owned giant has 600,000 tons weight and is also 263 feet wide. The
Prelude mega-ship
is taking the first place from Emma Maersk (1,302 feet). It is true that Prelude is the world's largest floating offshore facility and will be launched in 2017.
Can this project be a ship? This project is rather a FLNG facility. FLNG - floating liquefied natural gas, in a few words it is a facility which will float above an offshore natural gas area for production of LNG. The liquefied natural gas will be stocked on this super large facility(vessel) and sent to carriers for transportation. The Prelude will be located off the coast of Western Australia and will be located there for a long period of time.
In this mega-ship (FLNG plant) all of the work will be done aboard, including: capturing, processing, and storing the LNG and then transported to a smaller ships to the mainland.
The large ship is powered by 6,700-horsepower engines and can be safe even in category 5 hurricane.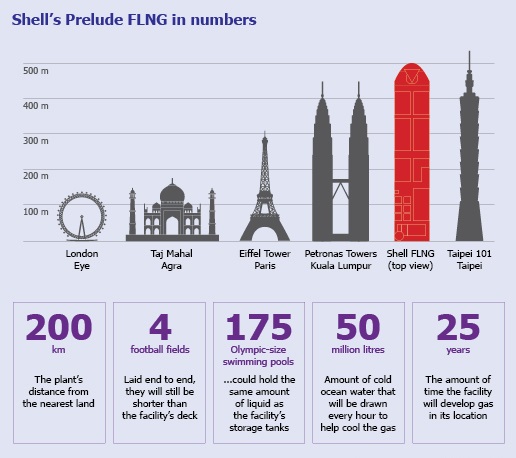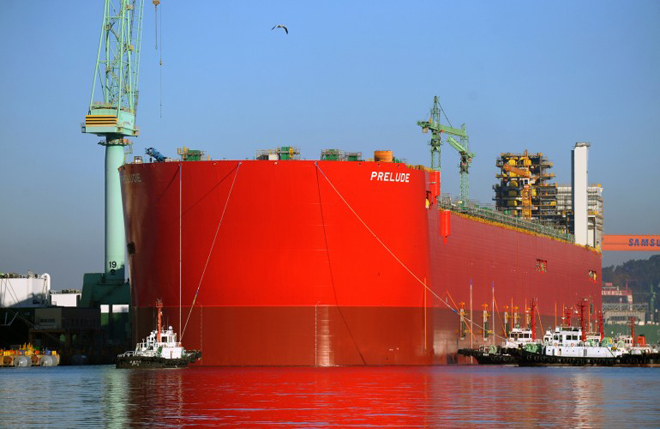 This mega-ship facility will allow exploration of new energy resources offshore and process around 3.6 million tonnes of LNG per annum in order to be ready for the growing demands. Hundreds of marine engineers and workers are involved in the project Prelude.
Background information:
Royal Dutch Shell plc
The company is located in England and Wales and a main office in The Hague. Royal Dutch Shell plc is even listed on the London, Amsterdam and New York stock exchanges. Shell is a worldwide leader and operates in many countries and territories with businesses including oil and gas exploration and production;
Source: www.largestships.com