USS George Washington (CVN 73)
, a U.S. aircraft carrier accomplished its biggest
replenishment-at-sea
(RAS) with ammunition and
Military Sealift Command
dry cargo vessel
USNS Charles Drew (T-AKE 10)
.
While the replenishment-at-sea operations are not something new to the USS George Washington sailors, the aircraft carrier was supplied with almost 700 pallets of supplies at once, which is around 3 times more than a standard RAS. this supply produced a rare challenge for the USS George Washington supply department team.
"The biggest challenge was trying to move all these supplies around as quickly and safely as we could." said Logistics Specialist 2nd Class Damon Candelarie, from San Leandro, Calif. "It involved a lot of cooperation and effort from everyone. For most RASs we normally have around 200 Sailors helping, however, we needed more than 300 for this one."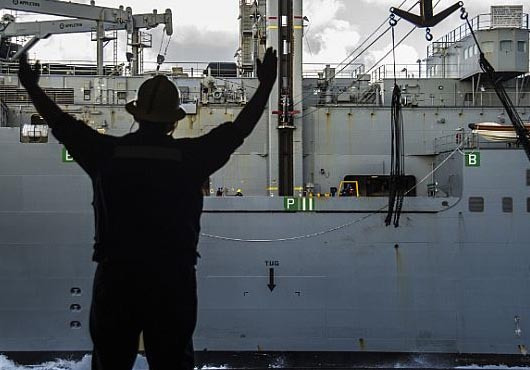 The aircraft carrier usually makes 3 or 4 replenishments at sea per month over a course, during its patrolling under normal conditions. USS George Washington was forced to skip some of the RAS operations due to certain circumstances.

"Since we were busy operating in the Philippine area to help with [Operation Damayan], we weren't able to get supplies for the ship regularly," said Senior Chief Logistics Specialist Hai Tran, George Washington's shipping and receiving leading chief petty officer. "The supplies we would've got piled up, so once we could do a RAS we ended up taking everything all at once."