A subsidiary of
Becker Marine Systems GmbH
, Slovakia's
Hybrid Port Energy GmbH
signed a contract to build the first liquefied natural gas hybrid barge in the world.
The new-built LNG barge is going to be provided with 5 gensets supplied by the 7.5 MW Zeppelin Power Systems for 50/60 Hz operating solely on liquefied natural gas.
Those are going to be the first delivered to customers marine classified LNG
Caterpillar engines
, said the parent company Becker Marine.
The project for building the
world's first LNG barge
, which is planned to be 74-meters long started in 2012 between AIDA Cruise Company and Becker Marine to secure low emission electrical power for cruise liners while they are in port.
The first LNG barge is going to be stationed in
Hamburg port
, which will make the port first in Europe that will be able to provide cruise vessels with cold ironing power.
Operator of the first LNG barge is going to be the German operator of the 1st German LNG transhipment port, Schram Group.
AIDAsol
might become the 1st cruise liner that could be supplied with electricity from an LNG hybrid barge from the Hamburgs Hafencity Grasbrook pier, if everything goes to plan, stated the spokesperson of Becker Marine.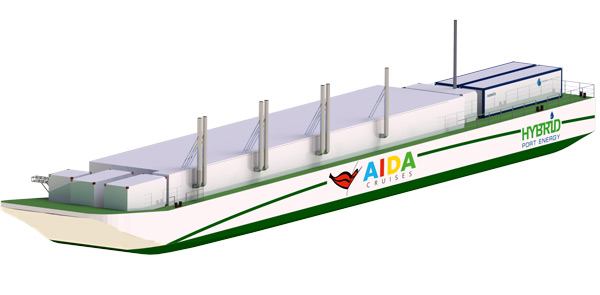 Moreover, the first LNG barge and its engines are to be outfitted to provide combined heat and power to potential clients.
Delivery of the world's first LNG barge is set for summer 2014.