Fire on the oil tanker OT Kingfisher-1 was reported, at least three crew members suffered serious burn injuries. The vessel has on board 8,650 tonnes of fuel. The incident occurred on Karnaphuli river in Chittagong, Bangladesh, 24 hours ago.
The fuel on board is property of the state-owned petroleum firm named Jamuna Oil Limited. Injured crew members were sent for treatment to Chittagong Medical College and Hospital and a few hours later were sent to Dhaka as their condition deteriorated.
According to firefighters, the flames started from a gas cylinder leakage in the kitchen. The fire quickly engulfed the area and a cabin adjacent. Badly injured crew members were in the kitchen when the fire started.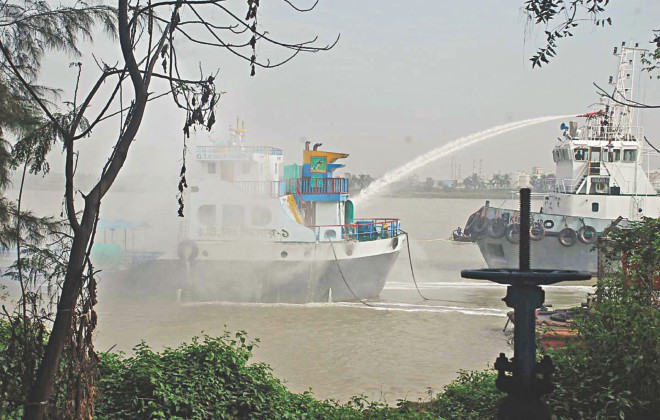 6 fire-extinguishing units cope with the flames for 1 hour with the aid of a ship from the Chittagong Port and equipment of the Jamuna Oil Ltd. The ship OT Kingfisher-1 and the crew were lucky the fuel on the tanker was intact.
It was reported that one of the crew members suffered 100 per cent burn injuries while the others 80 percent and 54 per cent. Their condition is critical for the moment.
OT Kingfisher-1 was planned to sail for Bagabari Depot in the morning.