The cargo ship Nour M sank at the port of Rhodes due to strong winds. The vessel had been detained 30 days ago when the coast guard and customs officials had discovered thousands of bullets. The Sierra-Leone flagged Nour M had was stopped near the Dodecanese island.
Greek officials discovered the captain of the vessel had entered Syria as his final stop in the AIS (automatic identification system ) but had changed it to Tripoli, Libya when he was intercepted by the Greek Coast Guard.
Authorities believe the ship Nour M was connected with the so-called "Odessa Network", known as a loose collection of logistics contractors working for Russian and Ukrainian governments. Their activity is to transport weapons to foreign countries like the regime of Syria's Bashar Al Assad.
Information reveals that the ship Nour M sank along with its cargo.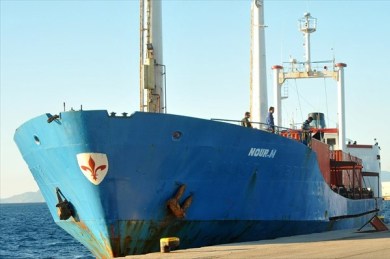 Ship Name: NOUR-M
Ship Type: General Cargo Ship
IMO number: 7226627
MMSI: 667735000
Call Sign: 9LB2134
Built: 1972
Flag: Sierra Leone