Chairwoman of the Executive Board, Angela Titzrath: "We will be further intensifying our sustainability efforts under our 'Balanced Logistics' brand."
CTA is the first container terminal in the world to be certified climate neutral
HHLA Pure offers its customers environmentally friendly transport chains from the quayside to the hinterland
Hamburger Hafen und Logistik AG (HHLA) is increasing its efforts to protect the climate and conserve resources. The aim is to make the entire Group climate neutral by 2040. The already successfully implemented sustainability strategy will now be realised under the "Balanced Logistics" brand. HHLA thereby underscores its commitment to be both economically successful as well as socially and ecologically responsible.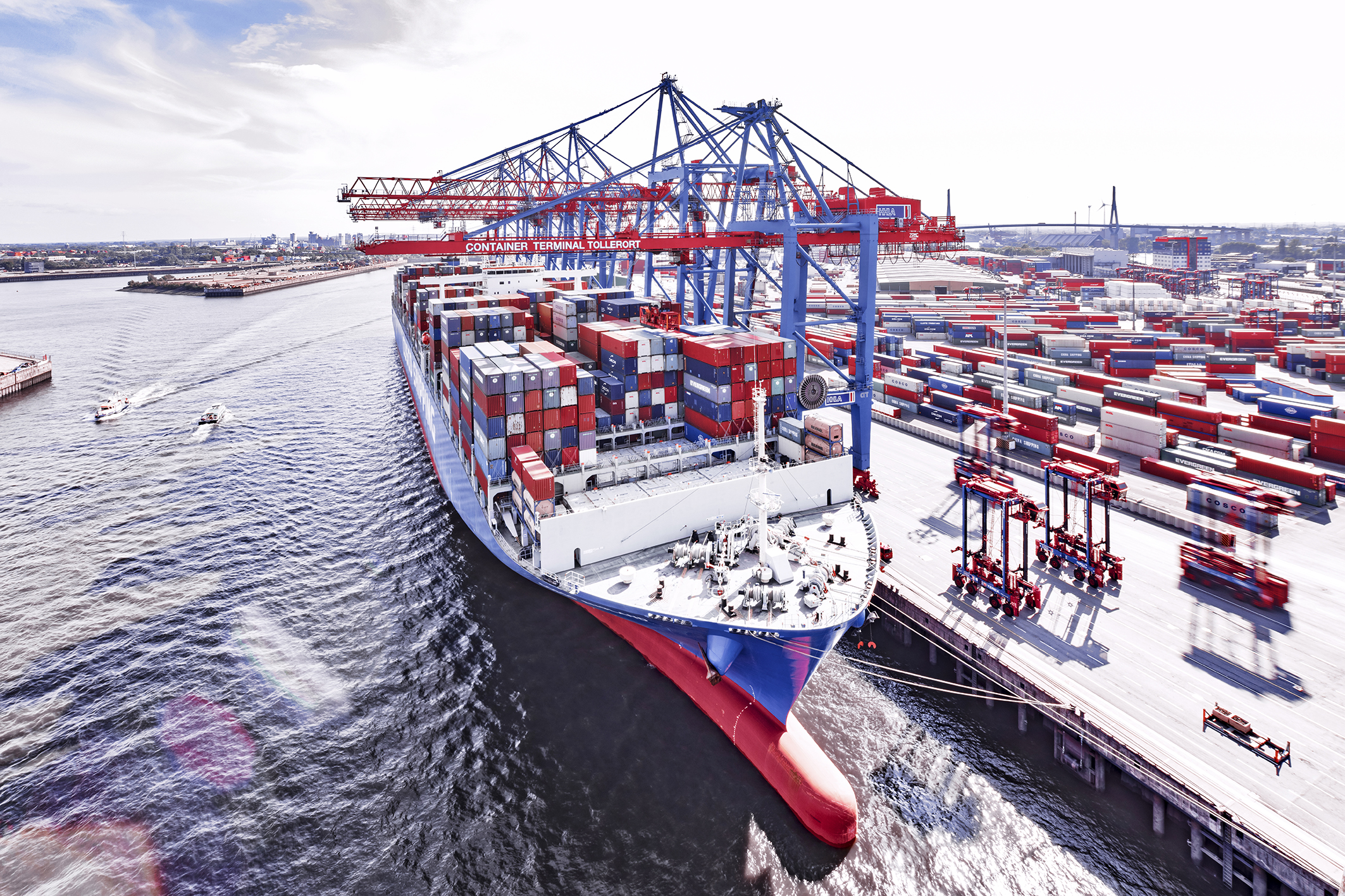 Angela Titzrath, Chairwoman of HHLA's Executive Board: "The people of Hamburg can rely on HHLA. We are well aware of our responsibility to protect the climate and that is why we are implementing specific measures for efficient and more sustainable container handling and environmentally friendly transport chains. Regardless of the dynamic that the climate protection debate has taken on recently, HHLA has been making a significant effort to increase the energy efficiency of its processes, conserve resources and consistently reduce emissions for many years now. The self-imposed target to reduce CO2 emissions per handled container by at least 30 percent by 2020 was thus achieved ahead of time last year. We are now setting new targets. We're working on halving our absolute CO2 emissions by 2030 compared to the figures from 2018. The aim is to make the entire HHLA Group climate neutral by 2040."
BALANCED LOGISTICS MEANS SHAPING A COMPREHENSIVE SUSTAINABILITY POLICY
In order to further clarify HHLA's stance on this important social topic, the sustainability strategy will in future be implemented under the guiding principle of "Balanced Logistics" and the profile raised with a corresponding logo. "We understand 'Balanced Logistics' as finding a balance between economic success, good working conditions, social responsibility and environmental and climate protection," explained Titzrath at a press conference in Hamburg today. She added that "Only as a successful and competitive company do we have the means and opportunities to sustainably invest in our employees and fulfil our social and environmental responsibilities."
HHLA believes that intelligent, sustainable solutions are an opportunity for new business models and raising added value. "Those who invest in innovative, climate-friendly technologies at an early stage achieve sustainable results faster, which is to the benefit of shareholders, customers, staff members and society", said the Chairwoman of HHLA's Executive Board. This means looking into new technologies without prejudice in order to tackle head-on the challenges that we will face in the future.
CTA IS THE WORLD'S FIRST CLIMATE-NEUTRAL HANDLING FACILITY
One area of action is the Container Terminal Altenwerder (CTA), which became the first handling facility for containers in the world to be certified climate neutral by TÜV Nord in 2019. The quayside facility located in Hamburg is one of the most technologically modern and efficient container terminals in the world and has been in continual advancement since it commenced operations in 2002. Operations at CTA are now primarily powered by green electricity. Terminal processes that still produce CO2 emissions today will be gradually electrified, or their transition to electrical power will be field-tested.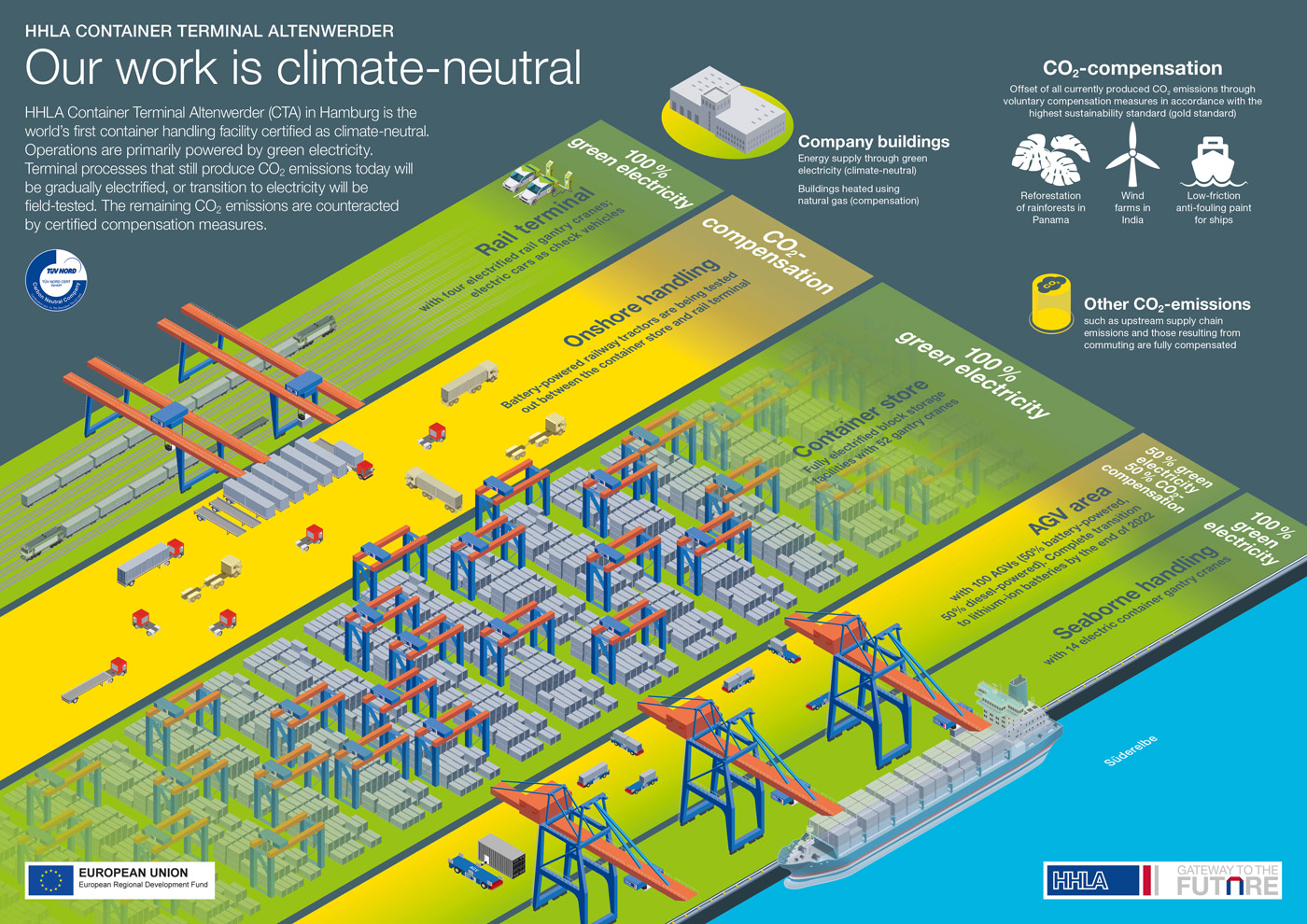 HHLA compensates for CO2 emissions that are still being generated through emissions reduction certificates, thereby supporting environmentally friendly projects that are certified according to the highest gold standard of Voluntary Emission Reduction (VER) including wind farms in India, low-friction anti-fouling paint for ship hulls and reforestation of rainforests in Panama. CTA's CO2 footprint will be reviewed again by TÜV Nord next year. It can be assumed that the need to compensate will decrease as the electrification of the terminal continues to progress.
HHLA PURE: CO2-NEUTRAL TRANSPORT CHAINS FROM THE PORT TO THE HINTERLAND
The measures HHLA is implementing do not stop at the quayside; in addition to further optimising its own facilities, networking with other logistics players also offers much potential. The company has developed HHLA Pure, a product that can ensure climate neutral transport chains from the port into the European hinterland, making an important contribution to lowering transport-related CO2 emissions. This product allows HHLA to combine the strength of Hamburg as the largest European rail port with the environmentally friendly rail transport offered by the intermodal company Metrans. The HHLA subsidiary uses energy efficient electric trains and lightweight flat wagons, which can transport more containers with the same train length.
The forwarding company Jakob Weets and transport logistics company cargo-partner are both pilot customers for whom Metrans transports containers from the Port of Hamburg to Central and Eastern Europe. If, for instance, the handling and rail transport of a 20-foot container from CTA to Prague, roughly 700 km away, generates a CO2 footprint of approximately 80 kg per standard container (TEU) this certified value can be compensated for with HHLA Pure. This offer enables customers to make their container transport climate friendly and increases competitiveness at the same time. Following a successful pilot phase HHLA Pure will be brought onto the market in 2020.
"We review not only the economic value and benefit for our customers of every process optimisation and every new technical development, but also the sustainability aspect," commented Titzrath. "As the 'gateway to the future', HHLA considers innovation and technical excellence to be key to fulfilling our responsibilities and developing sustainable solutions."
Source: HHLA