Carnival
was aware of potential risk of fire on
Carnival Triumph
due to leaks from engine fuel hoses. According to enclosed documents in the
Miami federal court
, Carnival Cruise Lines recommended precautions before the fire occur on Carnival Triumph.
A dozens of mad passengers of the ill-fated cruise ship
Carnival Triumph
filed a lawsuit in February against
Carnival Corporation
and its subsidiary,
Carnival Cruise Lines
accused of
negligent in maintenance
, and allowing Triumph cruise ship on voyage from Galveston of 7th of February.
A fire caused by leak of engine fuel hoses
disabled Carnival Triumph
on 10th of February. All people aboard the
damaged cruise ship
endured a nightmarish tow to
port of Mobile
, Alabama.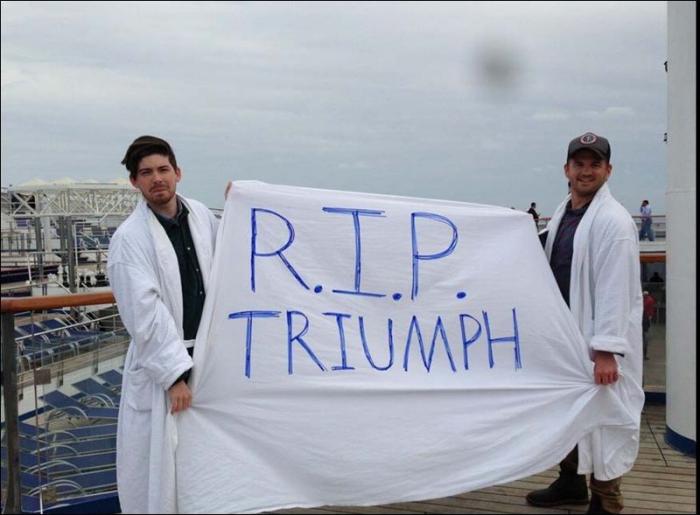 Related articles:
Diesel Fuel Leaking caused fire on Carnival Triumph
Third tugboat sent to tow Triumph

CNN news agency, first reported on the file documents that reveal the Carnival's recommendation to Triumph. Read the compliance notice report of Carnival (PDF)

Carnival Triumph engines passed the required inspection before the ship departed for a 4-day cruise journey, stated the spokesperson of Carnival Cruise Lines in a press release. In addition to the statement, the documents that suggest installing spray shields on the flexible fuel lines were just a recommendation to Triumph and they were beyond and required safety measures.


"The spray shields for the flexible fuel hoses were an additional Carnival Corporation recommended best practice to avoid fuel fires," Carnival said Tuesday, and not otherwise required by any regulation or statute.

Carnival gave time of Triumph to 28th of February to into compliance.
Triumph's captain
, Angelo Los stated in court that Carnival Cruise Lines was aware of the problem since March 2012. There was partial replacement of spray shields on Triumph but the No.6 engine fuel hoses remained. He also added, the
damaged fuel hoses
were less than 6 months old.
"While this was a difficult situation for our guests and crew, this is a frivolous lawsuit by any measure. The lawsuit is nothing more than an attempt to craft a story that is unsupported by the facts and evidence,'' the Carnival statement said.

"Our maintenance practices meet and often exceed regulatory requirements. Additionally Carnival has introduced several safety-related measures that are above and beyond regulatory requirements, including frequent thermographic testing, inspection and replacement of flexible fuel hoses.''


Source: CruiseNewser