A U.S. Navy helicopter, with 5 passengers aboard, crashed into the water off the Virginia coast. The accident occurred during a training mission and lead to the death of 2 crew members, 1 missing and 2 in the hospital, despite they were wearing survival suits created to keep water away from the body. Rescue teams were searching all night for the 5th sailor.
Four of the crew members were transported to the hospital, but two of them died. Another navy helicopter hoisted the sailors from the cold waters. Two of the crew members that survived in this tragic incident were being treated at Sentara Norfolk General Hospital. One of them is in serious condition.
Capt. Todd Flannery, the commander of Helicopter Sea Combat Wing Atlantic informed:
"Today has definitely been a tough day on all of us,"
"Our heartfelt prayers go out to the families and loved ones of those killed and injured in today's crash."
The aircraft that crashed is an MH-53E. A similar tragic incident happened in July last year when 2 crew members died during a lifting operation of a downed aircraft. The helicopter crashed into a canyon in the Gulf nation of Oman.
Helicopters of this type are used for searching sea mines and for on board delivery missions. The machine is capable to carry up to 8 people, plus two pilots and is capable to fly with speed of more than 170 mph. The chopper weighs up to 34 tons and during the incident there were clear skies, light winds and the reason for the crash is not revealed yet.
Virginia Beach Fire Department boats discovered the helicopter fuselage and tail section. Coast Guard and Navy vessels, plus the guided missile destroyer USS Jason Dunham are also participating in the search for the missing sailor.
In such cold water, a human could survive for 1-3 hours considering the fact that would become exhausted or unconscious between 30 and 60 minutes. The survival depends also of the body size, body fat percentage and movement in the water.
The report from the crash in July last year revealed a lot of problems within the Navy Sea Dragon project. The price of the helicopter was $50 million and the crew was responsible for the crash (according to report) for not making all preflight safety checks and for not creating a concrete plan for how and when to end the mission.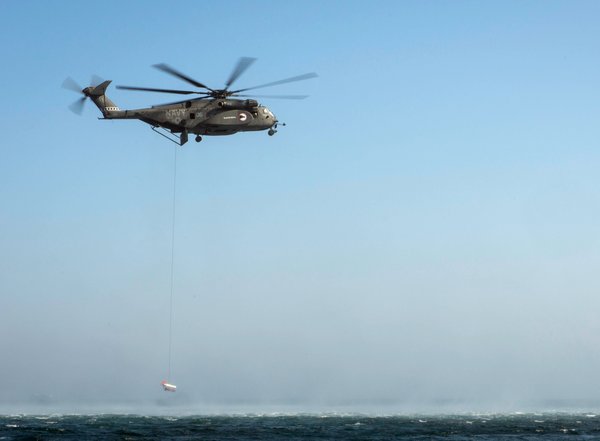 A MH-53 Sea Dragon, the same type of helicopter that crashed. (Nicholas S. Tenorio / AFP / Getty Images)