An investigation will show if the livestock carrier Abou Karim IV threw overboard dead cows. The vessel dumped the dead animals just after leaving Kiel on Dec 27 last year. At least 14 dead cows were spotted on the beaches of Denmark and Sweden. Abou Karim IV was sailing from USA to Ust Luga transporting cows. Apparently some of the cows died during the voyage so the crew members took a decision to get rid of the dead animals.
It is permitted to dump dead animals in the ocean, but it is absolutely forbidden in landlocked sea like Baltic sea. The crew members probably decided to dump the dead animals where was more appropriate according to their opinion. At least 14 of the dead animals were washed up on the beaches of Denmark and Sweden.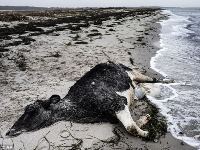 It is known that some of the cows were shot, their legs tied and stomachs cut open. It is curious that the ears of the animals had been cut to destroy any evidence identifying the owner of the cows according to police investigation. The first corpses were discovered 4 days after the carrier Abou Karim IV had left Kiel. On the third day after leaving Kiel, the vessel called at Ust Luga and soon after headed to Klaipeda, Lithuania. As of 0500 UTC Jan 12 vessel was sailing in Baltic sea near Bornholm, heading to Kiel, en route to Beirut. Apparently, neither the captain, nor the operator knew they were the suspect in what is actually, a crime.