Overcrowded ferry sank in the White Nile river and more than 200 people are feared dead. The exact number of drowned South Sudanese civilians is not known, but it is estimated between 200-300. The ferry incident happened on the White Nile river while passengers were trying to escape from fighting in the city of Malakal.
Many civilians have been trying to leave the battle zone by crossing the river, but a lot of them claim that passing the river is almost impossible, because they can't afford to pay for a boat. Crossing the river is undertaking worth a lot of money.
The army spokesman commented:
"The reports we have are of between 200 to 300 people, including women and children. The boat was overloaded," army spokesman Philip Aguer said. "They all drowned. They were fleeing the fighting that broke out again in Malakal."
There are battles in several places in South Sudan. Malakal is one of the most affected places of heavy fighting. The city is state capital of oil-producing Upper Nile state. Rebels started an attack to gain control over the town. Malakal was in their hands 2 times since the conflict (December 15) in South Sudan. UN aid chief for South Sudan Toby Lanzer informed that the peacekeeping base had been swamped with almost double the number of people seeking shelter.
"There is fighting anew in and around Malakal,"
A lot of people (according to reports more than 350,000) had to leave their homes because of the fighting between the South Sudanese government forces and rebels. Malakal is a key town, the gateway to the oilfields of the Upper Nile area. The fighting is between formations loyal to South Sudan's president Salva Kiir and his former deputy Riek Machar.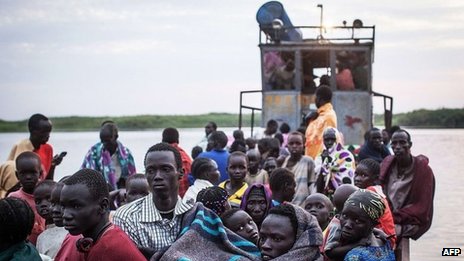 Credits: AFP