The French EU Naval Force (EU NAVFOR) Somalia Operation Atalanta flagship FS Siroco, together with Japanese maritime units, have rescued 11 Indians from a dhow suspected to be hijacked and transformed into pirate mother-ship. The French vessel detained 5 pirates suspected in an attack of an oil tanker in the Gulf of Aden. According to reports, the pirates had to cancel their attack after the security team of the tanker responded with fire.
The dhow which was discovered by the French Navy vessel had been probably used for a rear base before the attack over the oil tanker Nave Atropos. A Japanese naval patrol in the area (patrolling the Gulf of Aden and the Indian Ocean) also participated in the rescue operation that took place about 75 kilometres (45 miles) off Oman's coast. The dhow was reported hijacked some days earlier in the waters of Somalia.
The Nave Atropos oil tanker had sent a distress call to the UK Maritime Trade Operation (UKMTO) some days ago. Reports for the incident show that the attack was repelled by an armed security team on board the vessel. One more time it becomes clear that the most effective way to fight piracy are the private security teams guarding the vessels, we do not have to forget that anti-piracy missions also contribute a lot in the fight against piracy. The EU Naval Force with more Counter Piracy Forces, plus a Japanese Maritime Patrol Aircraft and a helicopter from the Japanese vessel JS Samidare discovered the suspicious dhow. The EU NAVFOR then approached the suspected pirate mother-ship with a helicopter and boarded the boat.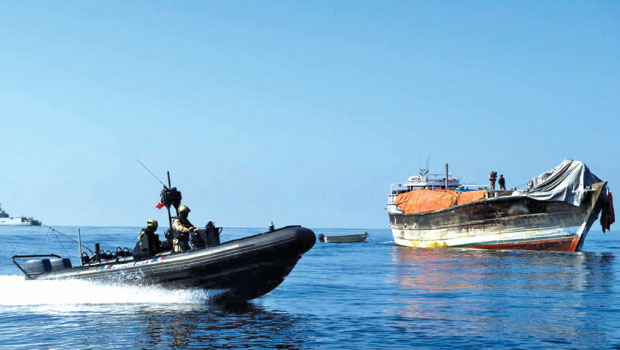 After seeing the naval anti-piracy forces, the suspected pirates on board the dhow started throwing equipment in the water. Siroco's security forces boarded successfully the dhow and found 5 suspected pirates who surrendered without fight. The bandits were arrested and the crew of the dhow rescued. The master of the hijacked dhow told that his vessel had been attacked and crew taken hostage off the coast of Somalia.
In other hand at Salalah Port, officials did not know about such an incident. The French Navy ship was reported leaving Salalah Port on Sunday.