NTSB stated on Monday that the sinking of the tall vessel
Bounty
in 2012 off North Carolina was probably caused by the thoughtless decision of the ship's captain to sail the ship into the Hurricane Sandy's path.
The 108-foot tall ship, built for the 1962 movie
"Mutiny on the Bounty"
sank on 29th of October, 2012 killing the
ship captain
,
Robin Walbridge
, 63-year-old and a crew member of Bounty. The shipwreck was found about 130 nautical miles southeast of Cape Hatteras, North Carolina, after being battered by the 30-foot seas and 161 km per hour wind gusts of the
Hurricane Sandy
.
Several hours after the tall ship Bounty sank, search and rescue team of the
USCG
rescued 14 crew members, amongst whom 3 seriously injured.
"The probable cause of the sinking of tall ship Bounty was the captain's reckless decision to sail the vessel into the well-forecasted path of Hurricane Sandy, which subjected the aging vessel and the inexperienced crew to conditions from which the vessel could not recover," the report concluded.

Survived crew members of the accident, testified at a Coast Guard hearing in Virginia last February. Several of them had expressed concerns to the ship captain Robin Walbridge, about sailing into the hurricane before they left the New London port, Connecticut on 25th of October, 2012.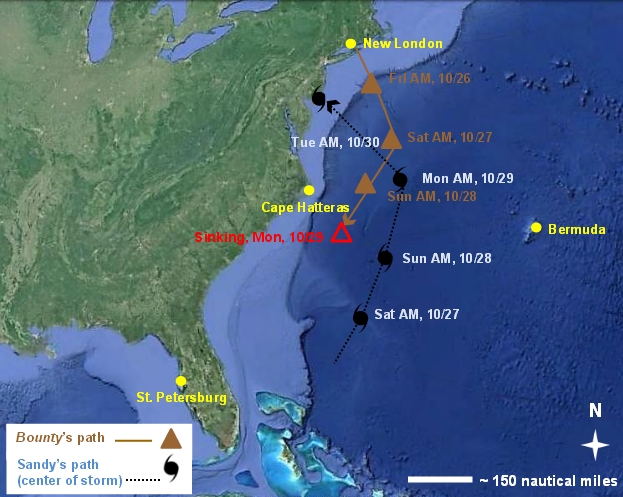 NTSB report also revealed that Captain Walbridge told his crew he was confident the vessel could handle the bad weather condition. He also stated in a Marine TV that the ship had "chased hurricanes." The body of Captain Robin Walbridge was never found after the tall ship Bounty sank.
The Safety Board also laid some of the blame on the HMS Bounty Organization LLC, the group which was responsible for managing the tall ship Bounty, stating the company owner didn't do anything to discourage Robin Walbridge from going into sea in that weather.
The ship's crew members had fixed some seams into the wooden hull of HMS Bounty with household kitchen and bath caulk as the captain ordered so, which caulk isn't recommended for marine use, reported the
NTSB
.
According to the Safery Board report, there were areas of wood rot on the vessel's hull that Captain Robin Walbridge told to his crew members couldn't be repaired due to a lack of money and time.
Family of the died crew member, Claudene Christian, has sued the ship owner
HMS Bounty Organization LLC
and its owner, Robert Hansen, claiming the amount of 90 million US dollars, alleging the tall ship Bounty was unseaworthy and the captain negligent.
Ship's owner Robert Hansen couldn't be reached for comments on the NTSB report.
You can read the entire report of NTSB on the sinking of tall ship HMS Bounty
HERE
.