Cargo ship listed off
Cheung Chau island
in Hong Kong and its crew was evacuated on the morning of February 21st, 2014. Crew members of the listed ship, all Vietnamese, were reported in good condition from a senior police officer. The damaged ship
Sunrise Orient
, drifted almost half a mile after the rescue of its crew members and eventually ran aground at a rocky beach to the east of Cheung Chau island.
Floating barriers were setted up this morning by officers from the pollution control department as
oil leak
around the grounded cargo ship Sunrise Orient was spotted.
The company, which was responsible for the
grounded cargo ship Sunrise Orient
was contacted by the Marine Department and asked to secure the vessel.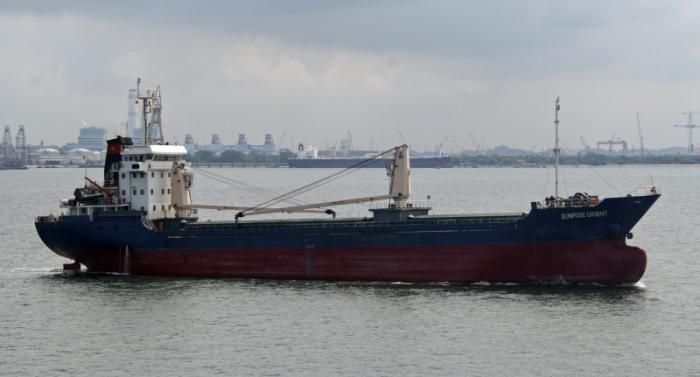 The grounded ship is a 90-meter long, 2,500 GT cargo ship, flying the flag of Vietnam, loaded with cement at the time of the accident. The damaged Sunrise Orient was en route to Hong Kong when encountered a mechanical problem half a mile off Cheung Chau island.

"An initial investigation showed the boat had suddenly begun to list," the department spokeswoman said.

Moreover, the loaded cement cargo onboard Sunrise Orient was moving and caused the cargo ship to lean to one side, stated an officer from the Marine Department.
The officer told, the cargo ship was listing at a 45-degree angle at one point, adding that the mechanical problem of Sunrise Orient could have been connected to the steering gear of the ship.
Captain of Sunrise Orient dispatched a distress signal as the cargo ship started taking on water. According to the
Marine Department
spokesperson statement, the distress signal was received at 10:15 a.m.
All Vietnamese crew members of the damaged cargo ship Sunrise Orient gathered on the upper side of the vessel, waiting the rescue team.
"The crew members were rescued and no injuries were reported," the department spokeswoman said.

A team of professionals was sent to scene of the accident with Sunrise Orient to investigate what caused the problem. Marine Department also dispatched a group of officers to control the sea traffic in the area.
All crew members of the grounded ship were transported to Aberdeen in the base of marine police.