Heart attack and respiratory failure could have caused the death of the two ex-Navy officers on board the Maersk Alabama. In the cabin of the security guards were found traces of narcotics and hypodermic needles. One of the possible versions of the death of the two men is overdose according to Seychelles officials. Local police identified the bodies of the men as Jeffrey Reynolds and Mark Kennedy, both 44. They were employees of Trident Group, a Virginia-based maritime security services company and were former Navy SEALs.
The president of the security firm said:
"It's bizarre. Of course, it's a shock. They're all great guys," Rothrauff said. "I'm absolutely clueless as to what happened."
The exact cause of the death will be announced after an autopsy. Seychelles official said that traces of narcotics in the cabin of the two security guards suggested that the death of the two men was a result of overdose. Media support this version, but officials have not released official information regarding the incident. Investigation will prove what exactly happened. Maersk Alabama became famous in 2009 when the ship was targeted by suspected pirates off East Africa. This incident later, in 2013, was used as a scenario for the film "Captain Phillips".
Maersk hired the security company Trident Group to guard its ships and announced that random drug tests will be conducted in future to the employees of Trident. Maersk informed about the incident:
"Based on our experience with the contractor, this is an isolated incident"
Drug tests on security personnel of the Trident Group will start immediately, the company also announced that the shore-leave policy will be reviewed. After this tragic incident, the ship Maersk Alabama left Port Victoria.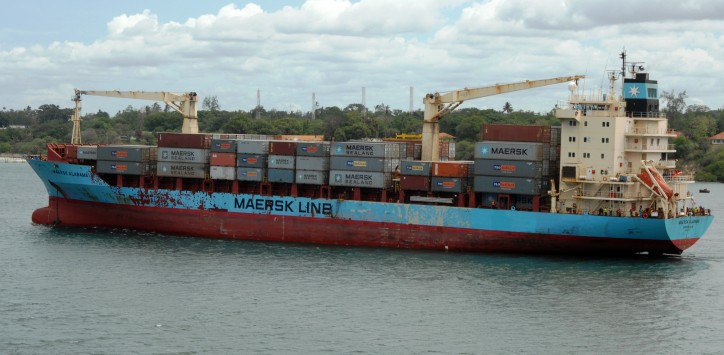 Background Information:
Maersk Alabama was docked in Victoria, Seychelles in the Indian Ocean and its final destination is not known. The two dead men on the ship Maersk Alabama had been found in a cabin while the ship was docked off the Seychelles. The former Navy Seals were part of 24-member team. It is usual former military personnel to work as security guards on board ships, sailing through zones with high pirate activity. The Maersk Line announced that the cause of the incident does not have connection with the vessel operations or the duties of the men as security personnel.
Maersk Alabama was attacked by pirates in 2009, 380 miles off Somalia. Crew successfully destroyed the pirate's transport and did not allow the attackers to take control of the vessel. Unfortunately the ship's captain was taken hostage on a lifeboat. 3 days later the captain was rescued, 3 pirates were killed and one captured.Later the same year, the ship was once again attacked by pirates, but security guards on board the Maersk Alabama successfully discouraged the pirates to near the vessel.
In 2011, the ship was again attacked by pirates, but after firing warning shots, the security personnel on the ship repulsed the attackers.