The U.S. Coast Guard is trying to discover what caused the grounding of the freighter Hanze Goteborg, two days ago in the Elizabeth River. The Netherlands-flagged ship (built 2013, 590-foot, 35,000 dwt) was transporting soy beans. A pilot from the Hanze Goteborg contacted Coast Guard Sector Hampton Roads Command Center watchstanders to inform for the incident. It was announced also that there were no injured crew members, no damage to the vessel and no danger to the environment. A Response Boat was sent to the location of the incident to assess if the vessel was damaged and to assist if there was a need. The situation with the grounded freighter Hanze Goteborg is monitored all the time by the Response Boat - Medium.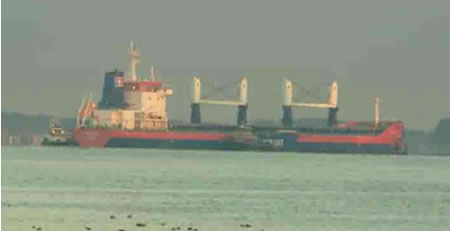 Marine traffic in the area was affected, but it was allowed vessels to sail with some restrictions. Around 12 hours later, the U.S. Coast Guard required tugboats to maintain the position of the vessel and to wait for a higher tide. The Response Boat was able to transport 3 Coast Guard members from Sector Hampton Roads to the grounded freighter. 16 hours later the tugboats (3) were in position to free the ship Hanze Goteborg and to escort it to Lambert's Point.
It is not known for the moment what caused the grounding of the vessel Hanze Goteborg, an investigation is underway. The freighter was ordered by the coast guard to make all needed repairs and an inspection of the hull to be conducted before leaving the port. A Coast Guard team from Portsmouth was in place overnight to help the marine traffic in the area.