HMCS Protecteur
was on its way to
Esquimalt
(British Columbia) when a fire broke out in the engine room. The incident happened on Thursday night, 630 kilometers north of Hawaii. The people on board were 298, including crew members and their relatives. According to
Department of National Defense
, family members on board are allowed during a final part of long operation.
"The idea behind it is they're seeing what life is like in a ship. Last night, they experienced more life on a ship than they probably wanted to experience again," said Cmdre. Auchterlonie, commander of the Pacific navy's fleet
Minor injuries including dehydration, smoke inhalation and exhaustion suffered 20 people.
"Fortunately, we have a doctor on board, we have physician assistance on board, and we're aware all these people have been treated," Cmdre. Auchterlonie said.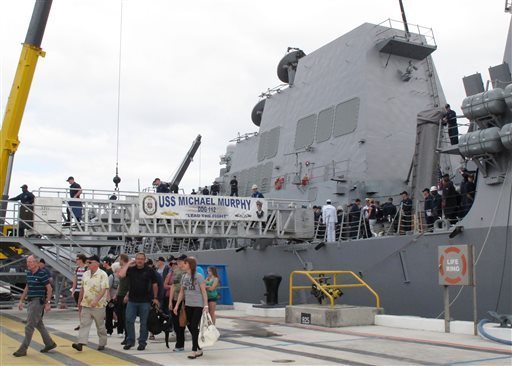 USS Michael Murphy was dispatched by the U.S. Navy to help HMCS Protecteur. On Tuesday, Michael Murphy towed the Canadian warship and returned the injured people, one sailor and 19 family members, to Pearl Harbor.
"We signed on for an adventure, and we got one," said Arlene Veenhof,a crew member relative.
The fire caused damages to the propulsion machinery of the vessel.
HMCS Protecteur serves as an auxiliary oil replenishment vessel and was launched in 1969 like its sister HMCS Preserver. According to announcement from October, the two warships will retire in 2015.