Ukrainian officials claimed an obstacle of a junked sunken ship was created by the
Russian Navy
, according to reports of The Sydney Morning Herald.
The
anti-marine ship
Ochakov
, which was Kara-class cruiser, was pulled out by sailors of the Russian navy of a naval junkyard and sank the vessel in the straits connecting Donuzlav Lake and Black Sea, according to a statement of Lieutenant Colonel Alexei Mazepa of the Ukraine Defence Ministry.
Ochakov was positioned in the Russian Black Sea Fleet as of 2011, however it hasn't been operational since the early 2000.
"The Russian Navy Ochakov Kara-class cruiser was sunk . . . to blockade the Ukrainian Navy ships deployed in Novoozerne," The Ukrainian Ministry of Defense said in a statement. "The Russian military towed and put in the navigating channel their ship Ochakov. They filled her with water. Then, there was some explosion."

The sunken vessel will be a really big obstacle for other ships to leave the Donuzlav Lake because the water depth in the area is about 9-11 meters. According to the statement, a lot of money and time will be needed to remove the shipwreck, according to the statement.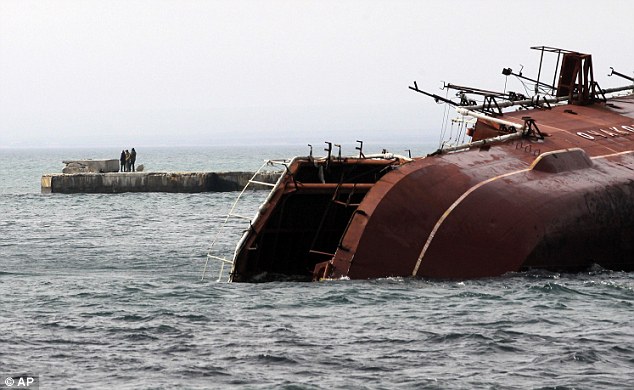 The sinking of the junked vessel was latest of a series moves by the naval forces of Russia as they blocked the mouth of the bay with ten ships on Wednesday, including the guided missile cruiser Moskva. However, all vessels left
Donuzlav Lake
at 11:30 p.m. on 5th of March.
Sevastopol port
is being leased by Russia and there are also other bases in Crimea, used by the Russian navy as headquarters in Black Sea.
Related news: