Rolls-Royce
has inaugurated a new training center to support its South America's marine customers. It is located outside
Rio de Janeiro
, in the Niteroi's Rolls-Royce Marine Services site.
The center will provide a lot of programs for training. Initially, the center will support in winch and DP (dynamic position) operations – the propulsion of the vessel is controlled automatically by a satellite technology in order to maintain her position in seaway.
The equipment, the training concept and the materials for the course are based on the ones that are used at the European Rolls-Royce Training Centre (Alesund, Norway). The simulators in Niteroi were designed together with the Offshore Simulator Centre (Norway) using the newest technology in bridge simulation.
The training center is housed in the Marine Services Centre and it has a real-size demonstration winch, located in the workshop. The training courses will include theory (classroom instruction) and practice (exercise in the simulators). It will be also provided maintenance training.
The main bridge simulator features two chairs for operators. It simulates various range of scenario in order to test the skill of the trainees.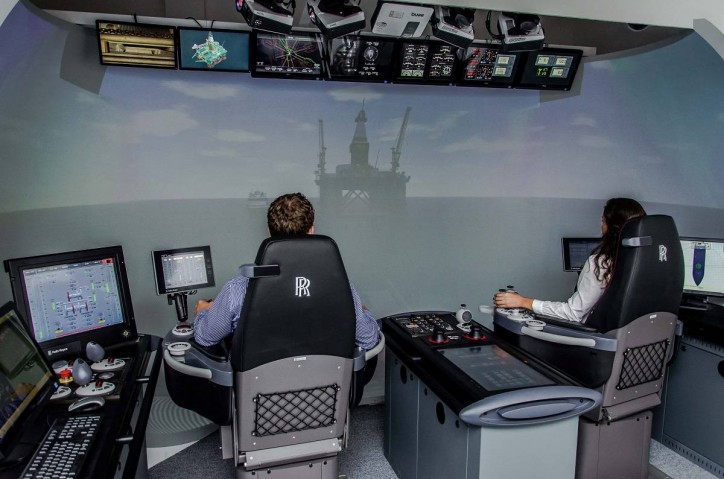 The skills for winch operation will be tested in two 180 degree horizons dome simulators. They simulate realistic surroundings to improve the skills of the trainees. The center also features a crane simulator housed in a similar dome.
The simulator domes have been designed to represent real situation on board a vessel by using the newest projection systems and techniques for situation modeling.
The classroom is in adjacent to the simulators. The DP cabinets and the four stations for DP training are in another room.
Important part of the training courses are the exercises for maintaining the system and finding faults.
The Country Manager of Rolls-Royce for Brazil, Paulo Rolim, commented:
"The provision of training to our customers in Brazil is critical in ensuring their ability to maximize the value and full potential of the equipment and systems onboard their highly complex vessels.
Getting optimal performance from the latest DP systems and deck machinery requires hours of hands on training, and doing so in a safe and cost effective training centre helps ensure crew members are better equipped to meet the real life challenges they face when out at sea, in often challenging conditions."