Yesterday, the second MLP (Mobile Landing Platform) class vessel was delivered to the U.S. Navy by General Dynamics NASSCO. The USNS John Glenn or MLP 2 was constructed in NASSCO shipyard in San Diego. Its keel was laid down on April 17, 2012.
The name of the vessel honors John Glenn – WWII and Korean War veteran of the United States Marine Corps, astronaut and senator of the United States. Sponsor of the ship is Lyn Glenn, the daughter of John Glenn.
USNS John Glenn is an auxiliary support ship with length of 785 ft. It will serve in the Maritime Prepositioning Force as a friendly forces' seagoing pier in case of denied access to onshore bases. The vessel will support the US Marines.
The concept of the ship is new. The vessel has not been constructed following the standarts for a combat vessel. It doesn't have ship-to-ship transfer of heavy equipment and helicopter capability.
NASSCO has incorporated in the MLP program over ten thousand improvements.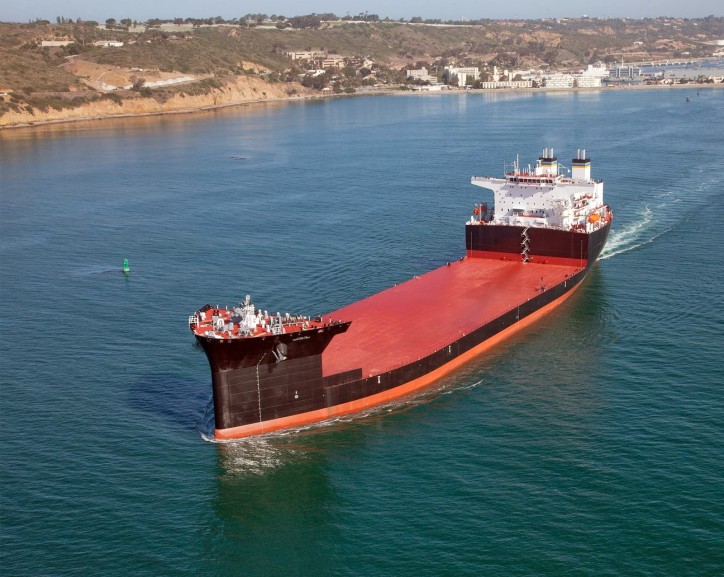 The President of General Dynamics NASSCO, Fred Harris, said:
"This is a great day for the NASSCO, Navy and Military Sealift Command team. We are delivering this ship with the quality, innovation and capability needed to support the future missions of the nation's fleet and uniformed men and women around the world."
The third MLP class vessel is currently under construction at NASSCO shipyard. It will be an Afloat Forward Staging Base and the delivery has been scheduled for 2015, Q2.
Video: Adm. Jonathan Greenert, Chief of Naval Operations, talks about the Mobile Landing Platform at the McAleese Credit Suisse Defense Conference.