In a strong signal highlighting its confidence in the offshore wind sector, CSBC-DEME Wind Engineering (CDWE) held a strike steel ceremony today in Taiwan, when work officially began on its pioneering installation vessel 'Green Jade'.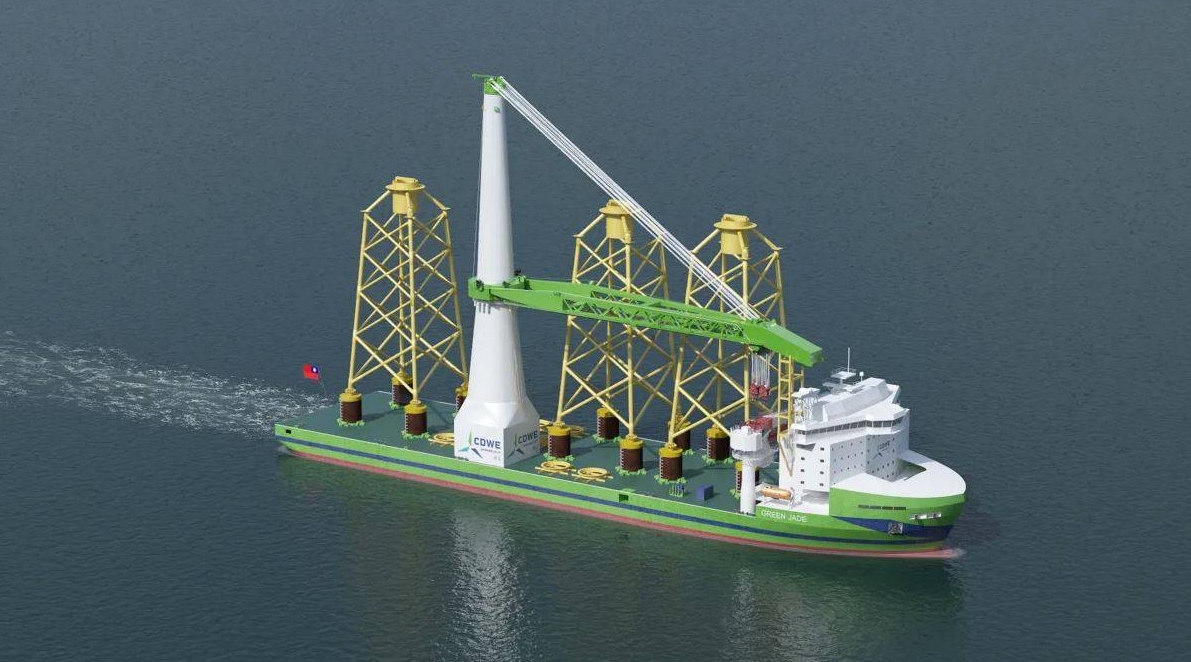 Representatives from the Hai Long and Zhong Neng offshore wind farm projects, the American Bureau of Shipping and the CR Classification Society were delighted to witness this important moment in Taiwan's maritime and industrial history and join in the celebrations with CDWE and CSBC, the shipyard that will build this unique vessel. 'Green Jade' is the first floating DP3 heavy lift and installation vessel to be built in Taiwan and she will sail under the Taiwanese flag.
Being built at CSBC in Kaohsiung, 'Green Jade' will feature an exceptional combination of high transport and load capacity, impressive lifting heights and green technology. The vessel has a 4,000-tonne crane capacity and DP3 capability, which will enable CDWE and its customers to transport a multitude of the next generation, multi-megawatt turbines, jackets and components in a single shipment, making it extremely cost effective.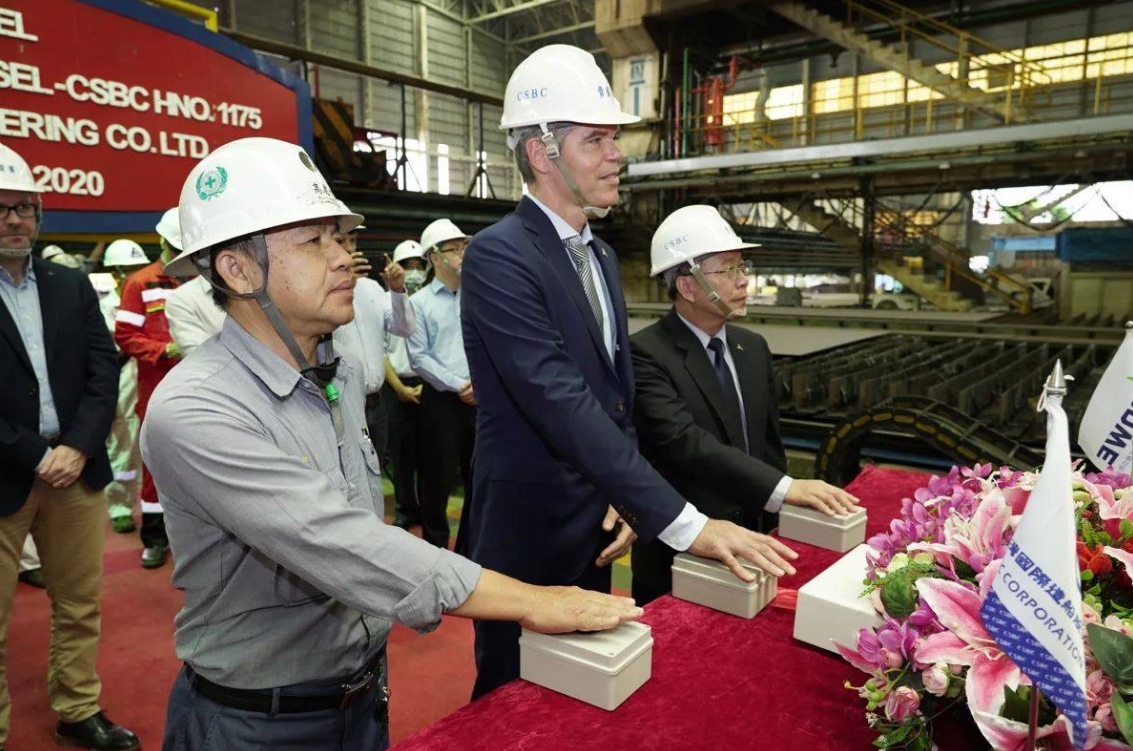 Mega monopiles and jackets in a single shipment
At 216.5 metres long, 'Green Jade' has a spacious, unobstructed deck and can comfortably accommodate a crew of up to 160 people. She will be capable of installing these mega monopiles and jackets at greater water depths and her DP3 technology enables the vessel to continue operations under the most challenging conditions.
'Green Jade' has dual fuel engines and a Green Passport and Clean Design notation. Other environmental innovations include a waste heat recovery system that converts heat from the exhaust gases and cooling water to electrical energy, in addition to various other fuel-saving measures.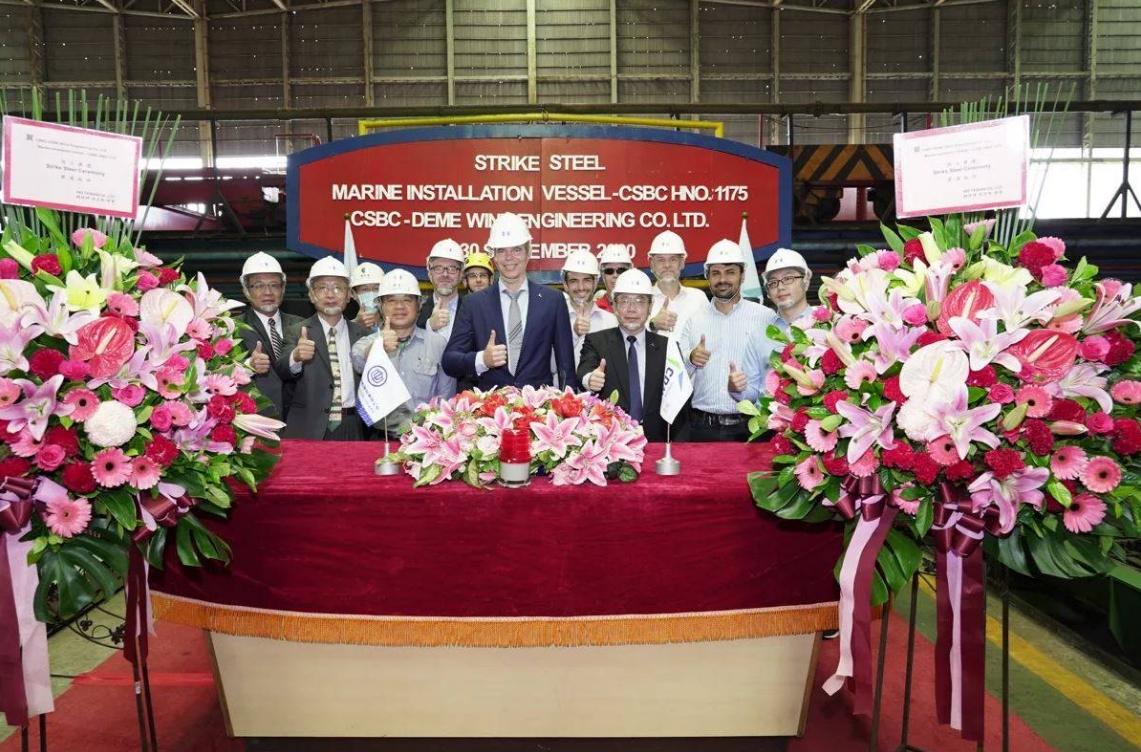 CDWE, Taiwan's first offshore wind EPCI contractor, was established in February 2019 by CSBC, the largest shipbuilder in Taiwan, and DEME Offshore. The steel cutting ceremony is a major milestone for the joint venture, which has already secured several important contracts in Taiwan's flourishing renewables sector.
Major contract awards
Set to enter service in 2022, 'Green Jade' will be deployed for both the Hai Long Offshore Wind Project and at Zhong Neng for Zhong Neng Wind Power Corporation Preparatory Office. CDWE signed Taiwan's first comprehensive, large-scale Balance of Plant Preferred Supplier Agreement with Hai Long Offshore Wind Project in October 2019. For Zhong Neng, the contracts comprise the transportation and installation of the foundations, as well as a Preferred Bidder Agreement for the transportation and installation of the turbines.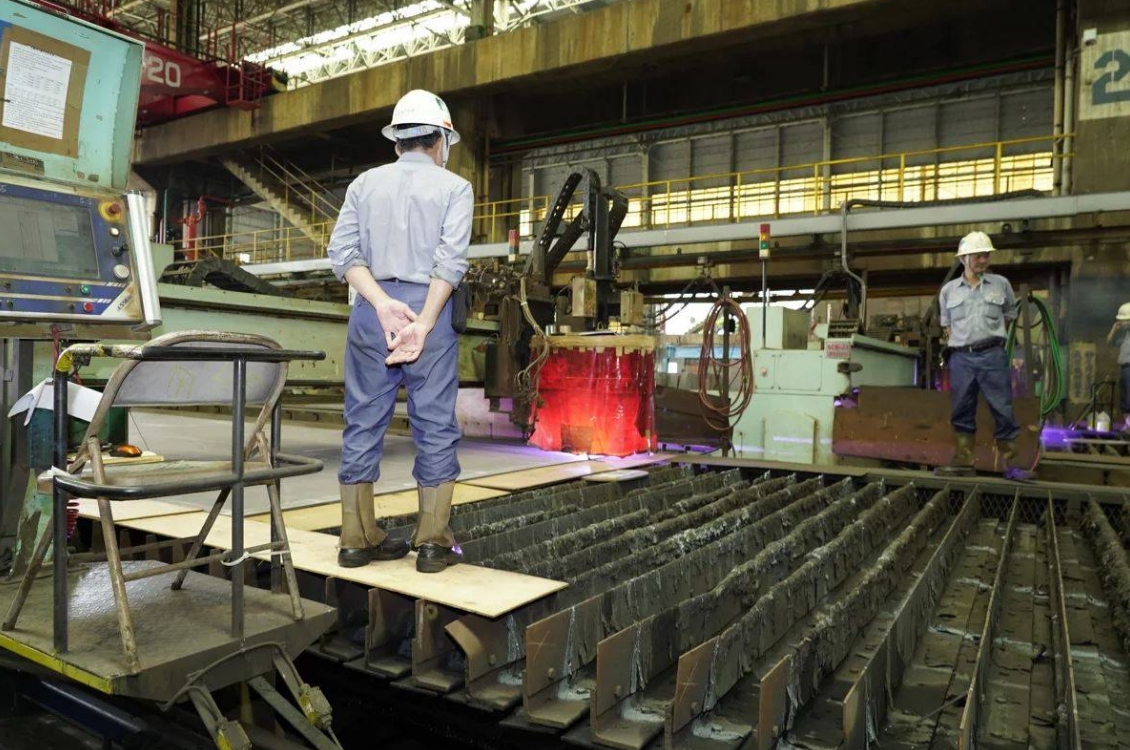 'Green Jade' shows CDWE's confidence in the offshore wind industry in Taiwan and the wider Asia Pacific region and its 100% commitment to maximising local content. CDWE is dedicated to supporting Taiwan in the development of its offshore wind industry, and a successful and sustainable supply chain, optimising local materials and skills.
Robert Tseng, Chairman of CDWE, says: "We feel proud and honoured to see the steel cutting of 'Green Jade' take place precisely on schedule. This is a marvellous step for CDWE and the Taiwan offshore wind industry. It indicates that the first Taiwan owned, built and operated main installation vessel has entered into the most important construction stage. For such a multi-functional and complicated vessel, the achievement of this important milestone shows our ambition and commitment to deliver the 'Green Jade' on time and to the very best quality standards to ensure our client's best interest. We will continue to work seamlessly with CSBC and all the stakeholders in the next two years and we are confident that CDWE will provide the most reliable and functional vessel to meet and exceed the high expectations of our clients in the offshore wind market."

Hugo Bouvy, Managing Director DEME Offshore, comments: "We are delighted to see this ambitious project taking shape. By combining the expertise of DEME and CSBC - two market leaders - we are confident we will be able to deliver this vessel as planned and we are sure 'Green Jade' will play an important role in helping to shape the future success of Taiwan's offshore wind industry. We really feel that we are participating in history with this game-changing vessel. And we look forward to taking this exciting journey with our local partners."

Wen-Lon Cheng, Chairman of CSBC, says: "The fact that the first steel cutting of 'Green Jade' is perfectly on schedule once again demonstrates the keen focus of CDWE and CSBC to accomplish the smooth delivery of 'Green Jade' by the fourth quarter of 2022. Both teams have put a tremendous amount of effort into the early preparation stages to make sure the vessel is delivered successfully - from the engineering tasks through to the dedicated project management system and intensive communication and interaction among all stakeholders, including the system and equipment vendors, classification societies and flag state authority etc. This is undoubtedly why we have been able to start the construction of such a complicated project on time and adhere to such an intensive schedule. The 'Green Jade Team' aims to continue this effective and efficient cooperation to make sure the construction progress is carried out as planned, which will enable us to deliver this exceptional vessel ready on time for her first projects."
Source: DEME