Freighter vessel
Beagle III
collided with the boxship
Pegasus Prime
and sank at the mouth of
Tokyo Bay
on 17th of March, 2014.
According to initial information 1 crew member, from Chinese origin is in critical condition and another
8 are still missing
.
Beagle III, a 12,630 GT, Panama-registered cargo ship loaded with steel coil
sank after she collided with Pegasus Prime
, a 7,406 GT South Korea-registered container carrier in the Urga waterway. The collision between both ships occurred at 3:10 local time (UTC6:10 p.m.) on Monday at the mouth of Tokyo Bay in Japan.
Japanese Coast Guard spokesperson informed there were 20 crew members aboard Beagle III at the time of the collision with Pegasus Prime. Twelve were safely rescued by the coast guard, but one of them has been stated to be in a cardio-respiratory arrest. The spokesperson also added that 8 other crew members were still missing.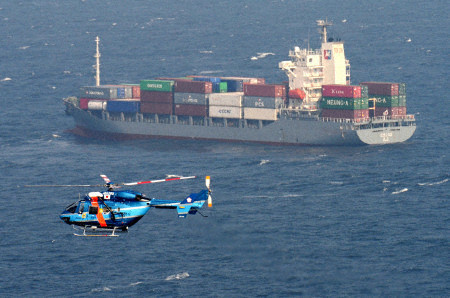 It's known that "cardio-respiratory arrest" is a term, usually ussed from the rescue staff in Japan before medics officially pronounce death.
Nineteen patrol vessels and 2 helicopters were initially dispatched at the place of the collision between Beagle III and Pegasus Prime to conduct a search and rescue operation for the missing 8 crew members. The Japanese Coast Guard spokesperson said rescuers were searching 9 hours after the collision.

At the time of the accident, there were 8 crew members from Myanmar and 6 South Koreans aboard the collided container ship Pegasus Prime. Two of the South Korean crew members sustained minor injuries when they tried to lower a lifeboat at water, but others were in good condition.

According to the Japanese Coast Guard, the sea was in calm at the time of the
collision between Pegasus Prime and Beagle III
.
UPDATE: South China Morning Post released information that Chinese Embassy in Japan sent a briefing regarding the collision of Pegasus Prime and Beagle III to an officer on duty at China Search and Rescue Centre located in Beijing, but they decided not to send a rescue boat due to the sensitivity of the location.