Having signed a contract for two 30m ice-breaking tugs last September for Scandinavian operations of world-leading Danish operator, Med Marine and Svitzer now shake hands for one of the most demanded tug model in successful Turkish shipbuilder's portfolio.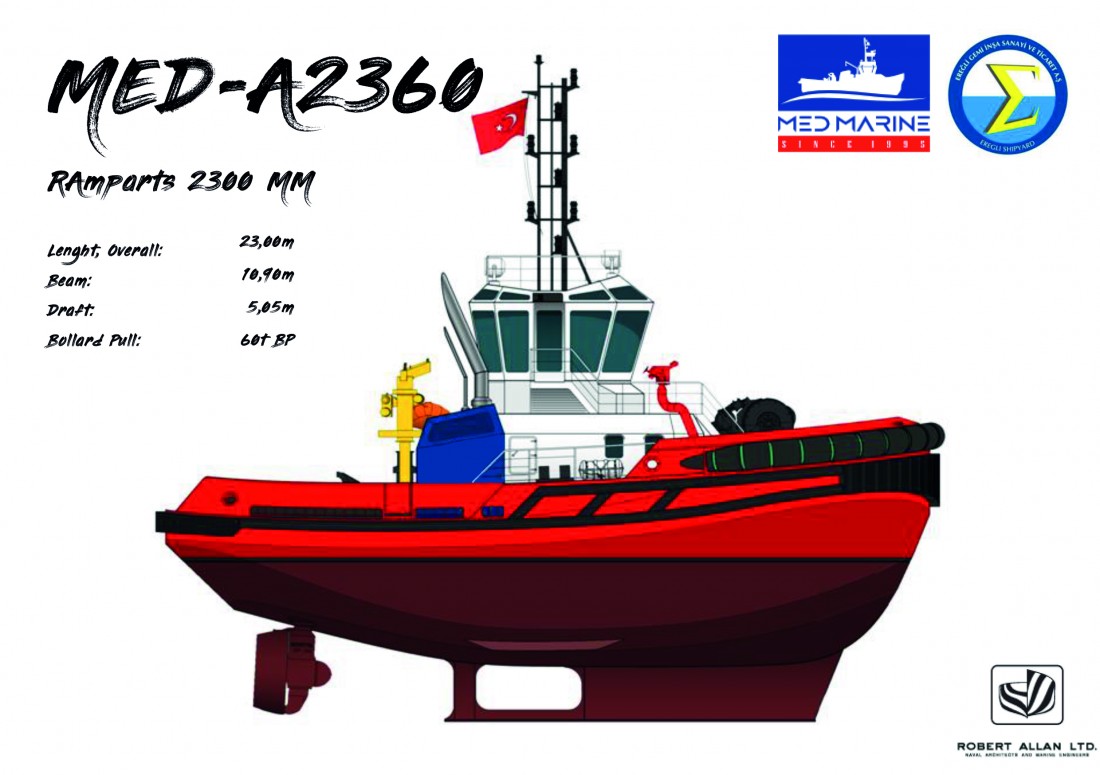 The new contract was signed last week. The vessel (Hull Name: ER80) will be operated in Svitzer's German fleet and the delivery is set for November 2020.
MED-A2360 series tug having different bollard pull options is Robert Allan's RAmparts 2300-MM that is designed exclusively for Med Marine by Canadian tug designer.
Compared to other 60TBP designs, MED-A2360 series tugs are very popular as they are compact yet robust, and have better maneuverability allowing the tug to offer versatility even in narrow and shallow ports.
Mr. Muhammet Gökhan, Business Development Manager from Med Marine, expressed his feelings about this new contract by saying "We are very pleased to continue our collaboration with Svitzer, which started with MED-A3060 ICE series projects last year, with our one of the most popular MED-A2360 series. We hope that we will work together on different projects in future and keep responding quickly to their requirements. Med Marine's expertise and knowledge in MED-A2360 series provide a smooth delivery experience to the new owner. Med Marine has already built a dozen of the series which were successfully delivered to operators from different locations including Abu Dhabi, Guatemala, Turkey -and now Germany-. This also proves MED-A2360 series' compatibility to different needs and environments." 

Commenting on the deal, Mattias Hellström, Cluster Managing Director, Scandinavia and Germany, Svitzer said: "We are very pleased to have signed a contract with Med Marine for a MED-A2360. Shortly, the new acquisition will join our growing business in Scandinavia and Germany where the design is very well suited to our needs. Together with our customers and crews, we look forward to welcoming the new tug which was actually built next to the two Ice Class tugs we are expecting next year."
The tugboat's specifications include:
| | |
| --- | --- |
| LOA   | 23,00 m |
| BEAM  | 10,90 m |
| DRAFT   | 5,05 m |
| BOLLARD PULL    | 60 ton |
| SPEED       | 12 knots (approx.) |
| MAIN ENGINE        | 2 x CAT 3512, 2 x 1.765 Kw @ 1.800 rpm |
| PROPELLER     | 2 x KONGSBERG US205 SP20 FP with 2.400 dia |
| FORE TOWING WINCH           | THR MARINE (SEC) |
| DECK CRANE         | Toimil T-10500M SWL10t.m reach 8 m |
| GENERATOR SET   | 2 x CATERPILLAR C4.4 86ekW |
| FIFI E SYSTEM | 1 x 1.400 m3/hr pump, 1 x foam/water monitor, water spray system |
| ACCOMMODATION        | 6 persons |