Two naval bases in
Crimea
, including the
Ukrainian navy HQ
, have been taken under control by Pro-Russian forces. The Ukrainian navy chief has been detained while the servicemen were leaving the bases.
On Tuesday, the leaders of Crimea signed a treaty with Moscow to absorb the peninsula into Russia. The treaty is a result of a referendum from Sunday, 97% voted Crimea to split from Ukraine.
Olexander Turchynov, the interim President of Ukraine, has demanded the release of the navy chief Serhiy Hayduk by 7 PM GMT. He also added that unless Serhiy Hayduk and all other hostages (military and civilian) are released, the Ukrainian authorities would carry out a response.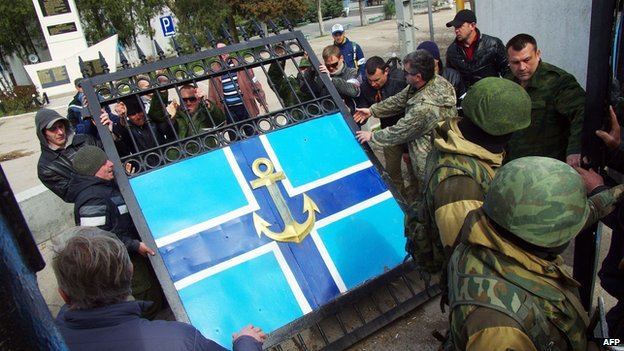 According to the Ukrainian authorities in Kiev, around 200 Pro-Russians stormed the Ukrainian navy HQ in Sevastopol. Some of the men were armed and they removed the Ukrainian flag to replace it with the Russian one. The activists applauded when Aleksandr Vitko, the Russia's Black Sea Fleet commander, entered the building. They stated that there was no violence and "not a drop of blood has been spilled."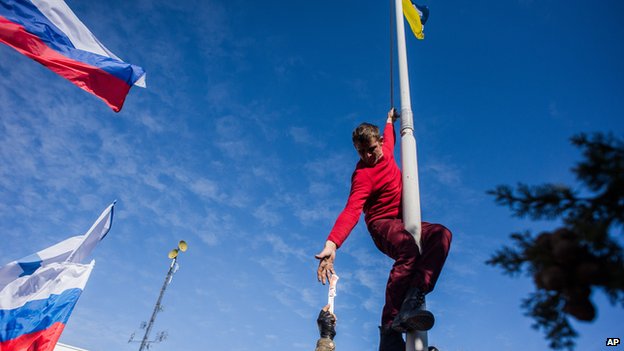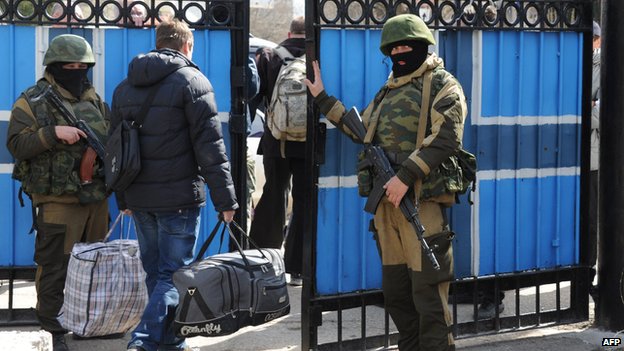 On Wednesday, the constitutional court in Russia approved the treaty absorbing Crimea into the Federation, now it only needs ratifying by the parliament.
The President of Russia, Vladimir Putin, said emotionally charged:
"Crimea always been and remains an inseparable part of Russia."
The Crimea crisis is expected to dominate a Brussels meeting of European Union leaders today. US and EU have already imposed sanctions on Russian and Ukrainian officials.
David Cameron, UK Prime Minister, stated that the EU should warn Russia and the G8 should decide whether to expel the Federation. General Ban Ki-moon, UN Secretary General, will meet today Vladimir Putin and tomorrow - Olexander Turchynov.
Related articles:
Russian Navy Sinks Ship to Block Ukrainian Vessels