Huisman Equipment is ready to build 2 enormous cranes for Heerema Marine Contractors (HMC) and its expected New Semi-submersible Crane Vessel (NSCV). A Letter of Intent has been signed between both companies for the design and construction of the largest offshore cranes on the planet. The units are planned to lift 10,000 tonnes in revolving mode.
The design of the so-called tub cranes will be very familiar to the cranes constructed by Huisman for HMC's Aegir. Except the capabilities of lifting 10,000 tonnes, the cranes will be also designed to operate at a 48-meters radius under offshore conditions. The cranes are planned to be 145 meters long of the boom, while the boom is up, the total length will be equal to 210 meters above the water surface.
World's largest crane vessel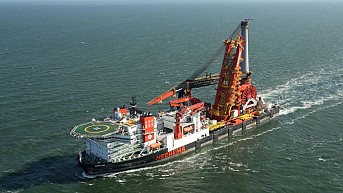 The Semi-submersible Crane Vessel (NSCV) of Heerema Marine Contractors, equipped with the cranes will become the world's largest semi-submersible crane vessel, with dimensions estimated to 214 meters (length) by 97.5 meters (width). HMC has to decide till the end of this year which shipyard will receive the order for the construction of the hull. Heerema Marine Contractors will pay attention over the Health and Safety Regulations. The vessel's design is expected to meet all required standards.
Huisman Equipment will take all necessary measures during the construction to minimize the impact to the environment. The Semi-submersible Crane Vessel (NSCV) will be designed to have transit speed of 10 knots and will be self-propelled. This vessel will be faster than the other operational crane vessels. The hull's structure will represent a large deckbox mounted on an eight-column structure mounted on two pontoons.