Global Energy Ventures (ASX: GEV) has revealed the development of a "world-first" compressed hydrogen ship to transport clean, renewable energy.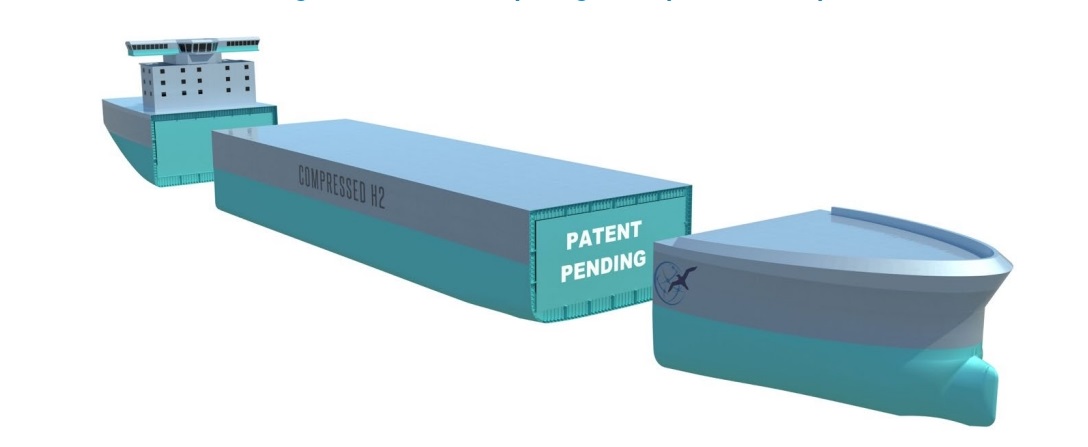 In an announcement today, it said patents are in process for the vessel and its innovative cargo system, which will include ambient temperature hydrogen at a target pressure of 3,600 pounds per square inch (psi) and have a storage capacity of up to 2,000 tonnes (or 23 million cubic metres) of compressed hydrogen.
Smaller capacity ships will also be evaluated for demonstration purposes based on specific pilot export projects.
Primarily focused on developing and operating marine vessels for compressed natural gas projects, the company is positioning as an early mover in the future of energy, leveraging its technical expertise to develop a new class of ship for customers demanding access to 'zero-carbon' energy.
Global Energy Ventures executive chairman and chief executive officer Maurice Brand said this new focus is "timely, given the global push by governments and major corporates to focus on net-zero carbon policies, with hydrogen as a pillar for decarbonising heavy carbon emission industries".
"Global Energy Ventures sees Australia as the global leader for establishing a national hydrogen strategy and industry with major funding programs in place.

"Australia has also established future hydrogen export agreements with regional customers in Japan, Korea, Singapore, and most recently Germany," he said.
The company anticipates detailed engineering will be lodged as part of the American Bureau of Shipping (ABS) Approval in Principle process early next year.
It is also creating a shortlist of suitable Australian export projects with a strategy to export hydrogen from the country's north west into the Asia Pacific region, and which are already through the pilot stage of hydrogen production.
Global Energy Ventures executive director of corporate and finance Martin Carolan said the company's compressed hydrogen vessel will be "very competitive against other marine transport options, particularly to Australia's regional Asia Pacific customers".

"The company has deep expertise and a history of successful design and approval of a new class of marine vessels that utilise compression for the storage of energy.

"It is logical for [us] to expand our offering to a growth sector in zero-carbon energy fuels and leverage the key assets we have in our people and intellectual property," he added.
Australia's hydrogen strategy
The Australian government released its National Hydrogen Strategy last year, following the CSIRO's National Hydrogen Roadmap in 2018.
The national strategy includes funding support of $500 million to develop projects and markets for domestic use and future export markets.
Last month, the government announced a $1.9 billion investment package over 10 years in five new energy technologies, with hydrogen named as a priority focus.
Mr Carolan said an accelerated program for the ship design, engineering and initial stage of ABS approvals will position Global Energy Ventures as a "leading solution for the export of hydrogen from Australia to the key energy markets in Asia Pacific".
"[We] recognise the key to driving down the economics of hydrogen production will be scale, and the key to scale will be developing an export industry," he added.
Funding options from existing and newly announced Australian government research and development programs are being assessed and the company is confident the new ship will qualify for similar funding as it received for its compressed natural gas vessel CNG Optimum in 2018-2019.
Mr Brand noted the launch of the new hydrogen ship will not detract from the company's focus on the commercialisation of the CNG Optimum as "multiple" opportunities are progressed in the Americas and globally.