Hackers have been trying to profit by posting viral links on Facebook claiming that the Flight MH370 has been found near Bermuda Triangle. The malware links to fake surveys and nothing more.
The hackers' posts show videos that resemble legitimate. There are different versions for the location where the plane has been spotted. The posts also claim that the passengers are "saved" or "alive."
Popular trick used by the hackers is to write prefixes such as "Shocking video" or "Breaking" to grab attention.
A Malwarebytes malware intelligence analyst, Chris Boyd, said that they saw the links for the first time on Twitter. The mixture of "tweets" were leading to already known sites (originally posted to Facebook) and a brand new batch of imitation news sites, survey scams and blogs of spammers.
The fake video sites either ask the visitors to share on Facebook groups with names such as "Pray for MH370" or the visitors should share the realistic looking news before watching any video.
These are popular hackers' tricks and have already been seen in previous "top stories" such as the earthquake in the Philippines last year and the Japanese Tsunami (2011).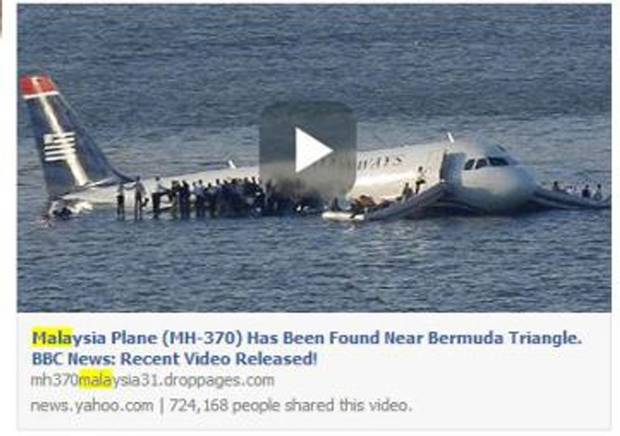 Chris Boyd commented:
"They ranged from Malware and 419 scams to fake donation pages and search engine positioning. Anything involving a potential disaster is big money for the scammers, as there's a split between clickers with a penchant for salacious content and those who simply want to know if a relative is OK, or if there's any more news on a breaking disaster."
The profit for the scammers comes from the fake surveys that appear when someone follows a link. The users that fill out the fake surveys will be sharing their personal details with third party marketers who paid for that.
The malware intelligence analyst also added that those fake scam pages could reach hundreds and thousands shares and also:
"there's big money in it for anybody willing to plumb the depths of human misery."
Related articles:
VIDEO & PHOTOS: Search for Malaysian aircraft expands to Indian Ocean
UPDATE: Australia and China readjust their search efforts for the Malaysian Aircraft