Morning Glory
has returned to
Libya
. The commercial oil tanker, that had been seized by the
U.S. Navy
a week ago off Cyprus, docked in Tripoli on Sunday. The crew members and the three rebels that had boarded at
Es Sider
, were arrested by the Libyan navy forces.
Tripoli won a rare victory, because it is a challenge for the country to end the rebels blockade of ports in North Africa. The problem ballooned after the fall of Muammar Gaddafi, three years ago.
The rebels are former anti-Gaddafi activists and militias that refuse to surrender their weapons. Often, to make demands on a state, they control oil facilities or use force.
Morning Glory encountered damages, result from the fire fight with the Libyan navy before the ship managed to escape from Libya. Mirza Noman Baig, the captain of the vessel, showed bullet holes and cracks on the oil tank and on the crew office. According to Lieutenant Colonel Salim ash-Shwirf, the crew of Morning Glory were in good health and they have been referred to the relevant judicial authorities. They declined any interviews, but a member of the captain's family said that the armed rebels had boarded the vessel forcing the crew to load the crude. The state prosecutor of Libya said:
"The crew of the oil tanker is now under my authority and is being investigated."
In the crew office there were three pistols, two riffles and several bags of ammunition. According to a navy officer, they belonged to the rebels.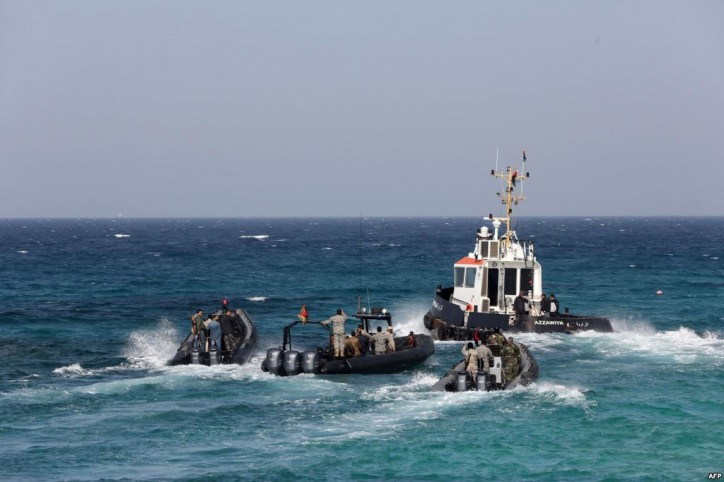 At the time, the vessel arrived at the port, it had no flag. It had carried a North Korean one until Pyongyang authorities denied any knowledge of Morning Glory. The vessel will unload all the cargo at Zawiya port, and the crude will be fed into the Zawiya refinery.
Related articles:
Libyan navy detained tanker Morning Glory at rebel-controlled port
Morning Glory taken down by navy seals
UPDATE: U.S. Navy Remains Aboard as Morning Glory Returns to Libya