Chinese authorities have reported for several suspicions floating objects in remote seas off Australia.
Xinhua
news agency reported earlier today that
Ilyushin IL-76
, а Chinese aircraft, has spotted two relatively big and several smaller white floating objects.
This followed the Australian reports from the weekend of strapping belts and wooden pallets that were floating in the icy southern Indian Ocean.
AMSA (Australian Maritime Safety Authority) were advised of the objects spotted by the Chinese but they said that the most advanced search aircraft in the world, U.S. Navy P-8 Poseidon, could not find any object.
A spoksewoman from AMSA said:
"A US Navy P-8 Poseidon aircraft was tasked to investigate reported object sightings by the Chinese aircraft made at 33,000 ft. The objects were spotted by the Chinese aircraft as it was heading back to Perth. Drift modelling was undertaken on the sighting. The P-8 was unable to relocate the reported objects."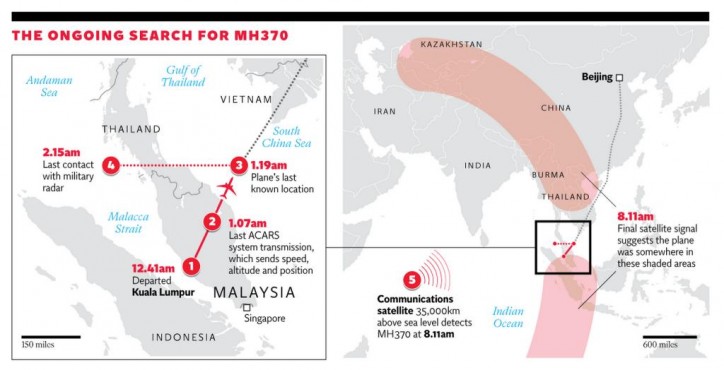 China has diverted the Xuelong (Snow Dragon), an icebreaker, to the location. The spokseman of the Chinese Foreign Ministry, Hong Lei, said that tomorrow Chinese vessels are expected to arrive in the area of the southern Indian Ocean. More than 150 of all the passengers on board Flight MH370 were Chinese.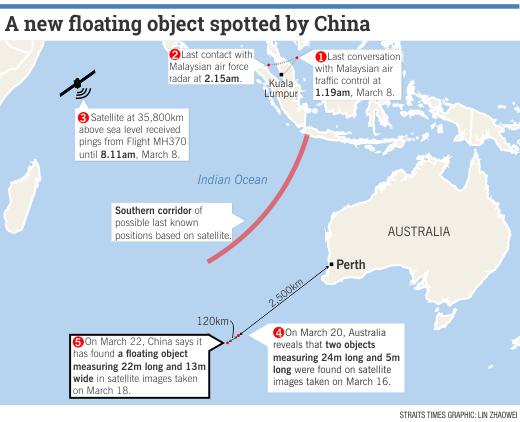 Meanwhile, the Australian Bureau of Meteorology has informed that today a cold front should bring showers in the search area. There is also possibility for wind and low cloud affect. Today, the search area is about 1,224 miles from Perth.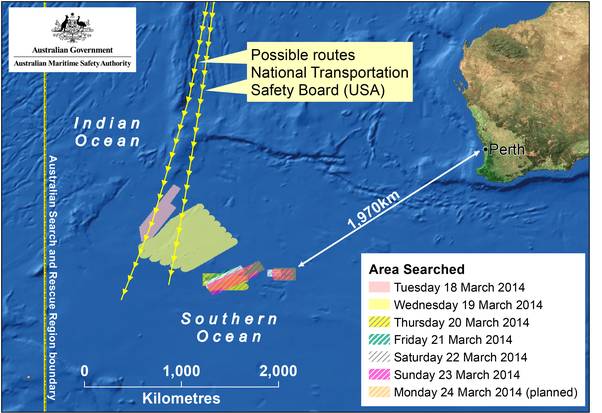 The U.S. Navy has sent its Black Box detector to the area. The black box of the plane is the cockpit voice recorder and flight data recorder. Finding the black box of the plane is crucial. The black box carries locator beacons that fade out after 30 days. U.S. Seventh Fleet Operations Officer, commander Chris Budde, said:
"If debris is found we will be able to respond as quickly as possible since the battery life of the black box's pinger is limited."
The Chief Executive of Malaysia Airlines, Ahmad Lauhari, has released the following video statement:
Today in the search of the Malaysia jet are involved:
Australia: 4 military planes P3 Orion, 4 non-military jets and HMAS Success (navy supply ship)

China: 2 Ilyushin IL-76 planes; Qiandaohu, Kunlunshan and Haikou (warships) and Snow Dragon (an icebreaker).

Japan: 2 military P3 Orion planes.

New Zealand: one P3 Orion military plane.

USA: one P8 Poseidon military plane.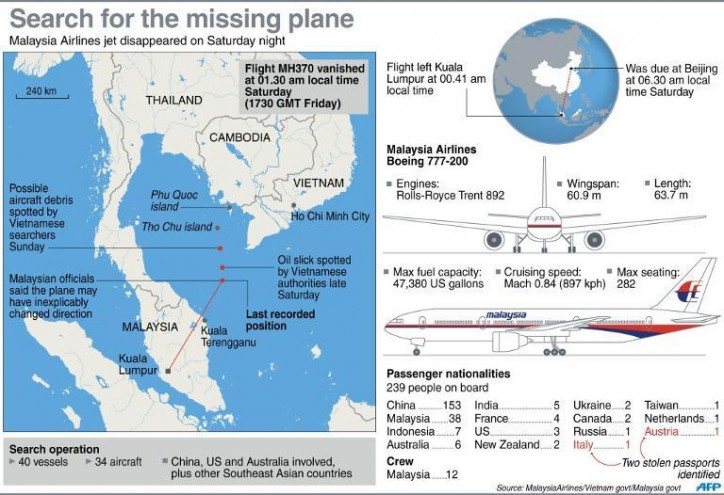 Read the latest information about the location of the missing Flight MH370 Malaysia Airlines plane here.
Related articles:
"Malaysia Airlines Flight MH370 missing plane Has Been Found" according viral Facebook posts
Australia and China readjust their search efforts for the Malaysian Aircraft
VIDEO & PHOTOS: Search for Malaysian aircraft expands to Indian Ocean