Further propulsion problems have forced
Adventure of the Seas
to delay her last itinerary before the ship dry-docking at the end of the month. The delay came after the ship lost all her propulsion when she was arriving in her homeport in Puerto Rico (
San Juan
) on March 23.
A week ago, the itinerary of Adventure of the Seas was modified because of oil leakage near St. Kitts caused by fixipod propulsion unit problems. Royal Caribbean placed oil booms around the vessel to prevent further oil leakage. The ship anchored for a day at St. Kitts for temporary repairs, including shutdown of the fixipod. The repair works delay and the slower speed forced Royal Caribbean to cancel calls in Aruba and Curacao. The initial announcement of the line was that the last itinerary would not be impacted.
At San Juan, engineers determined that the vessel need additional repair works. It took a day, which caused delay in the embarkation of the passengers.
Cynthia Martinez, the global corporate communications director of Royal Caribbean Cruises Ltd., announced that Adventure of the Seas has canceled her call at Barbados. In addition, the cruise line will give onboard credit as a compensation to the passengers for the delay and the itinerary changes. The guests in balcony, inside and outside cabins will be compensated with $250 per cabin, those from suites – with $500 per suite. Additional $75 will be given for third and fourth passenger (both for cabins and suites).
The Diesel-electric propulsion system of the ship will be repaired when she enters in the dry dock on 30 March.
Current position of Adventure of the Seas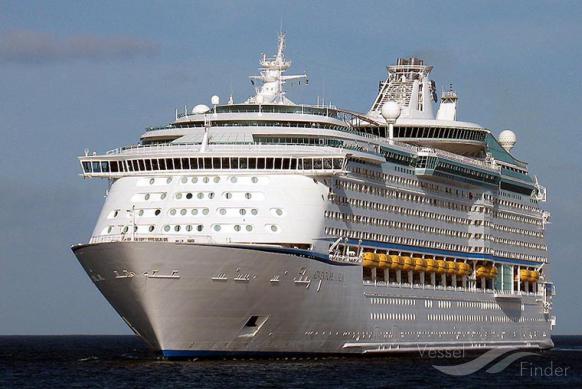 Source: www.cruisenewser.com
Related news:
Adventure of the Seas suffers propulsion problems