Houston Ship Channel is partially reopened for commercial maritime traffic after its closure because of the oil spill incident a few days ago. There is no information when the channel will be fully operational. More than a hundred vessels are waiting to pass through the waterway. It was allowed limited traffic starting at about 1 p.m. local time according to the U.S. Coast Guard.
Houston Ship Channel had to be closed Saturday, after a serious collision between the cargo ship Summer Wind and an oil barge. The incident led to a 168,000 gallons oil spill into the waters. The clean-up operation will take probably days and even weeks, so far the threat of contamination is minimal. The limited traffic is allowed during the daylight hours.
A containment boom (71,000 feet) has been used in the water near the collision incident and along the shorelines. More 232,600 feet of boom is ready to be deployed. More than 750 people are participating in the clean-up operation with 70 response vessels involved in the skimming and recovering the oil. The oil spill is drifting out of the Houston Ship Channel into the gulf. According to officials this will minimize the damage to the birds near Galveston Bay and the tourist beaches.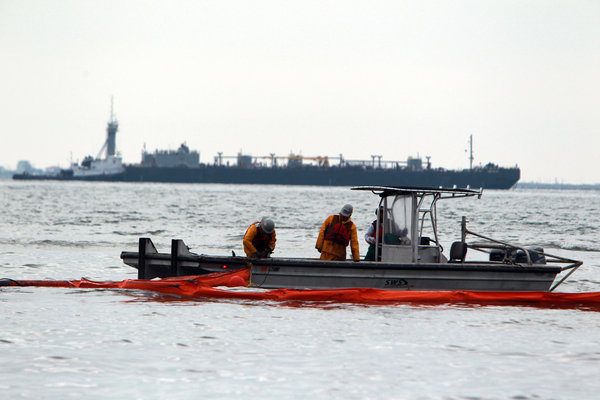 Looking back, the oil spilled from the ship collision is a similar incident to the disaster Exxon Valdez, in 1989, 11 million gallons of oil were spilled into Prince William Sound off the coast of Alaska.
Representatives from the Texas General Land Office, the lead state agency, are in general optimistic. Rich Arnhart, a regional director informed:
"As a member of the Central Texas Coastal Area Committee, we're pleased to see the plans outlined and implemented from our Area Contingency Plan proven effective in protecting and minimizing the impact on our sensitive and complex system."
There are reports from the U.S. Fish and Wildlife Service & the Texas Parks and Wildlife Department for 18 captured birds, 10 dead and 50 to 60 have been oiled so far. The location of the channel in Texas City is 45 miles southeast of Houston, there is a bird habitat with many wintering birds still there. Experts are convinced that more birds will be affected by the oil spill.