On Monday about 11:20 PM, a civilian boarded USS Mahan, U.S. Navy destroyer, at Naval Station Norfolk. He managed to steal the weapon of the sailor who was standing watch and fatally shot another sailor who was trying to help his colleague.
The security forces at the largest naval base in the world killed the suspect. No other injuries were reported. According to the commanding officer of the base, Capt. Robert Clark, the man was authorized to be on the Naval Station in Virginia and did not have his own weapon. Information on the identities of the shot sailor and the killer have not been released yet. Capt. Robert Clark asked for privacy for the sailor's relatives and commented:
"Information about our sailor will come at the appropriate time and today is not that day."
It is not clear why the civilian boarded the guided-missile destroyer. The found identification of the man indicates it is unlikely he was authorized to be on the base because he was military dependent. Capt. Clark said he had a TWIC card, which is given to transportation workers. It is a credential card used for applying for any jobs with the command. It still has not been cleared what was the job of the killer or when he worked on Naval Station Norfolk.
The accident was followed by a lockdown till Tuesday early morning. The operations were returned to normal, aside from Pier 1, where the USS Mahan is docked. The enlisted sailors on the destroyer were not reported to duty.
According to the spokswoman of the station, Terri Davis, the name of the sailor and the civilian will be released after notifying their families.
The incident is being investigated by the Naval Criminal Investigative Service (NCIS) and U.S. Navy security forces.
The USS Mahan is a Burke-class destroyer with length of 505 feet. He was commissioned in 1998 and he has 275 crew members. It returned to the base in September after an 8-month deployment for a possible strike against Syria in the Eastern Mediterranean.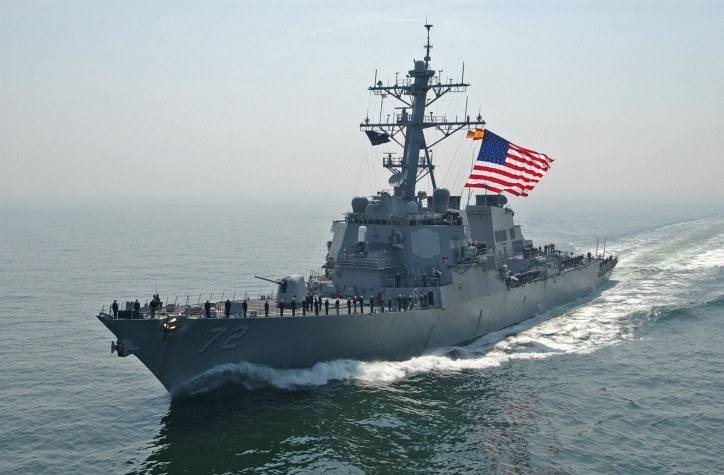 Naval Station Norfolk spreads over 6,000 acres and houses 64 navy vessels. The employees in the base are 46,000 military and 21,000 civilian (government employees and contractors). The entrances of the base are guarded, all piers (total 13) are additionally secured. There are implemented handheld ID scanners. If a civilian wants to enter, he must be escorted or he must show an identification allowing him to be on the base.