Cap San Lorenzo, the world's biggest reefer arrives for the first time in Hamburg. The large 9,600 TEU cargo ship docked at the HHLA Container Terminal Burchardkai. This is the first sailing of the Cap San Lorenzo from South America to Europe. The brand new container vessel is part of the new "Cap San" class of the shipping company Hamburg Süd.
Cap San Lorenzo is designed with 2,100 connections for refrigerated containers (so-called reefers). The reefer and its sister ships are the biggest vessels (reefers) in the world, ranked according to capacity. The ships are also one of the largest assets in the shipping company Hamburg Süd with total capacity of 9,600 TEU. The Cap San Lorenzo and its sister vessels are used for a scheduled liner service between South America and Europe.
The first visit of the reefer to the Port of Hamburg is an important event, because of that the captain of the vessel, Arie Sluijter was honored with the admiralty badge of the Free and Hanseatic City of Hamburg by Norbert Browarczyk, Head of Port Office West, and Port of Hamburg Marketing Executive Board Member Axel Mattern. The Cap San Lorenzo was christened at a ceremony in February, in Buenos Aires and entered service as a part of the River Plate Express. The shipping company Hamburg Süd works together with its Brazilian subsidiary Aliança. There are several ports in the schedule of the liner's service: Hamburg, Antwerp, Le Havre, Itaguai (Sepetiba), Santos, Paranagua, Buenos Aires, Montevideo, Rio Grande do Sul, Itapoa, Santos, Tangier, Rotterdam, Tilbury, Hamburg.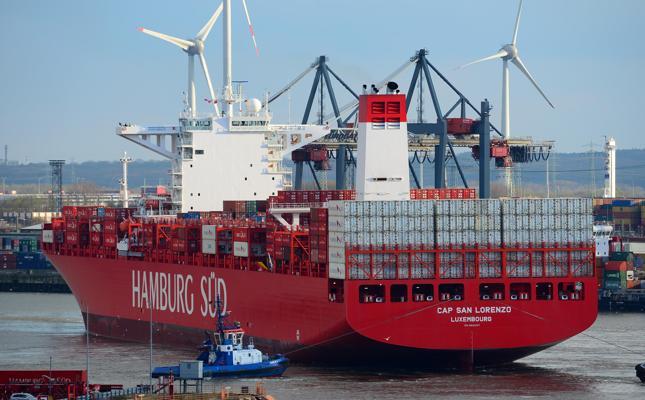 The Port of Hamburg plays an important role in the international shipments for handling containerised refrigerated cargo. Last year was very successful for the port, it was reported a record volume of around 618,000 sea reefer containers (in TEU) which were loaded and discharged in Hamburg. Statistics shows at least 9% increase compared year-on-year base. South America (eastern coast) is a key region for imports of refrigerated merchandise via Hamburg.