The teams, that have been conducting the search operation of the eight missing sailors after two cargo ships collided in Tokyo Bay, have been using an unmanned submarine. The robot-controlled submarine has already recovered the body of a Chinese sailor, 23 years old. The body was laying 330 ft (100 m) under the water. This is the second confirmed victim from the accident.
The Panamanian-flagged Beagle III, a 12,630-ton vessel carrying steel coil, sank on March 18 after colliding with the South Korean-registered Pegasus Prime, 7,406-ton, in the mouth of Tokyo Bay. Twelve of all the twenty Chinese sailors on board Beagle III were rescued. One died later in the hospital after he was in cardio-respiratory arrest. Eight of the crew member on board Beagle III were missing. All eight crew members on board Pegasus Prime were save.
The sunken Beagle III vessel has been detected on the sea floor by a survey ship. That mobilised the owners to send the robot submarine to search the bodies of those believed to have been killed in the incident.
According to the coastguard officials, the body of the 23-year-old sailor was in the right-side deck of Beagle III. The body has already been risen by the rescuers using the remotely controlled arms of the submarine.
Around 500 vessels pass through Tokyo Bay, which makes it the busiest waterway in Japan.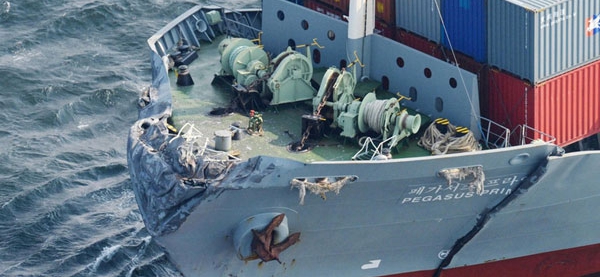 Related news:
VIDEO: 8 missing after collision between Beagle III and Pegasus Prime off Tokyo Bay