CruiseNewser reported on a tragic accident involving the Royal Caribbean cruise ship Independence of the Seas. On April 2, at around 5:15 PM, two dockworkers died while trying to assist the ship unberthing process. An eyewitness said that the two men were in a small boat trying to free the lines that anchored the cruise ship. The accident happened when Independence of the Seas overturned while pulling out of the St.Kitts port. That created marine currents, the dockworkers were unable to clear the berthing area and their boat capsized. The men were sucked below the water and drowned. Local divers retrieved the two bodies a few hours later. They were identified as Maxwell Browne, S. L. Horsford's employee, and Rudolph 'Tone' Dowell, linesman with St. Christopher Air & Sea Ports Authority (SCASPA). Royal St. Christopher&Nevis Police Force, SCASPA and St. Kitts &Nevis Defence Force Coast Guard are investigating the accident.
According to a crew member of the cruise ship, the rear azipods of Independence of the Seas pushed her away from the dock causing the dockworkers' boat to capsize. He explained the accident:
"The two men where thrown overboard and never resurfaced, only one had on a life vest, the other man's life vest came off when he was thrown into the water. The capsized boat was then pushed into the back of the Silhouette. All of this viewed from my aft balcony, kinda puts a damper on an otherwise wonderful cruise. Very sad for the families of these two men."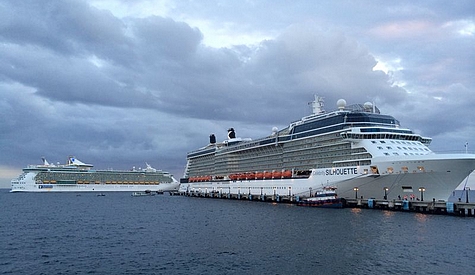 A passenger said that the people onboard Independence of the Seas heard an "Oscar, Oscar, Oscar" call which was followed by a lot of action. Both cruise ships currently in the port, Independence of the Seas and Celebrity Silhouette, were involved. The Royal Caribbean cruise ship left St. Kitts port 4 hours later.
The fatal accident has once again focused the attention on the low safety measures. An employee with SCASPA said on condition of anonymity:
"There are many concerns. We have raised these concerns with those in authority but nothing has been said or done. We are concerned about safety, money and risk pay. We are risking our lives every time we go out to sea and do our job, so at least there needs to be some things put in place."
Independence of the Seas (IMO number 9349681 and MMSI 309374000) is a cruise ship registered in the Bahamas. The ship was built in 2008 (Aker Finnyards,Turku,Finland) and it is operated by Royal Caribbean International. Current position of Independence of the Seas.