The U.S. Navy believes it has finally developed a solution to the intriguing idea of converting seawater into fuel. The liquid hydrocarbon fuel is believed to be a "game-changing" technology because it would drastically shorten the supply chain which has been considered a weak link.
The U.S. Navy fleet consists of 15 military oil tanker, equipped with nuclear propulsion are only some submarines and aircraft carriers. The rest vessels must frequently drop their missions to navigate in parallel with an oil tanker. This operation is very delicate, especially in rough weather.
The U.S. Navy aims to eventually eliminate any oil dependance, thus to avoid potential shortages of oil or istability in its cost. Vice Admiral Philip Cullom considers this "a huge milestone."
"We are in very challenging times where we really do have to think in pretty innovative ways to look at how we create energy, how we value energy and how we consume it.
"We need to challenge the results of the assumptions that are the result of the last six decades of constant access to cheap, unlimited amounts of fuel.
"Basically, we've treated energy like air, something that's always there and that we don't worry about too much. But the reality is that we do have to worry about it" he said.
U.S. experts have already found a technology to extract CO2 and hydrogen gas from seawater. Afterwards, they use catalytic converter to transform the extracts into fuel by a "gas-to-liquids" process. The scientists hope the fuel will not only be able to power vessels, but also planes. The ships will produce oil by themselves, not relying on tankers.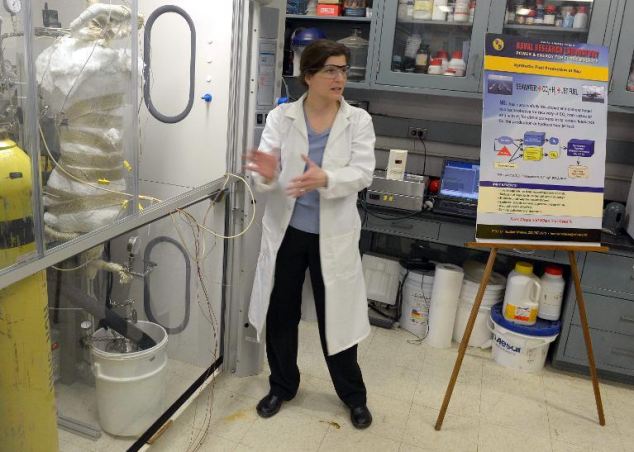 According to a research chemist with a decade work on the project, Dr Heather Willauer, the fuel doesn't look or smell very different.
"For the first time we've been able to develop a technology to get CO2 and hydrogen from seawater simultaneously, that's a big breakthrough,"added Dr Willauer.
The next step is the improvement of the amount of the captured CO2 and hydrogen. The U.S. Navy experts will work together with several universities.
"We've demonstrated the feasibility, we want to improve the process efficiency,"said Dr Heather Willauer.
Vice Admiral Philip Cullom added:
"Developing a game-changing technology like this, seawater to fuel, really is something that reinvents a lot of the way we can do business when you think about logistics, readiness."
A major benefit of the new technology is that the fuel can be used in the same engines already fitted in vessels and planes.
"If you don't want to re-engineer every ship, every type of engine, every aircraft, that's why we need what we call drop-in replacement fuels that look, smell and essentially are the same as any kind of petroleum-based fuels."