Three people have been rescued from a burning boat (that sank) by the U.S. Coast Guard. The vessel caught fire 2 days ago near Shinnecock, N.Y. The communication center at Coast Guard Sector Long Island Sound received a call from a person who reported the fire on the boat near the Shinnecock Inlet. The U.S. Coast Guard started a rescue operation and dispatched a rescue boat to the location of the incident.
People on board the 36-foot cabin cruise had to leave the vessel and jumped into the water (they used a life raft). The rescue boat arrived quickly on scene.
Petty Officer 2nd Class Patrick Rogers, of Coast Guard Station Shinnecock said:
"By the time we got underway the three people abandoned into water to get in their life raft."
"The owner remained on the phone with me up until the very end and the fire was burning out of control. He told me `I have to get off this boat!`"
The owner of the cabin cruise made a try to stop the fire with his portable fire extinguisher, but without success. The three people on board the boat on fire were lucky to have a deployable life raft. According to information only two of the three people were wearing lifejackets.
"They had only been in the water for a few minutes and they were already showing signs of mild hypothermia" informed Rogers.
The 36-foot cabin cruise sank while North Sea Fire Department was trying to extinguish the fire.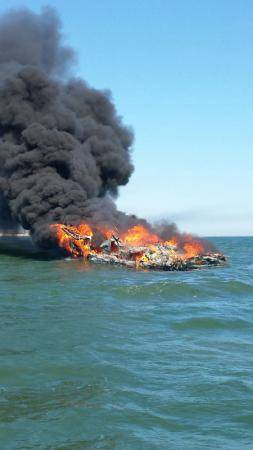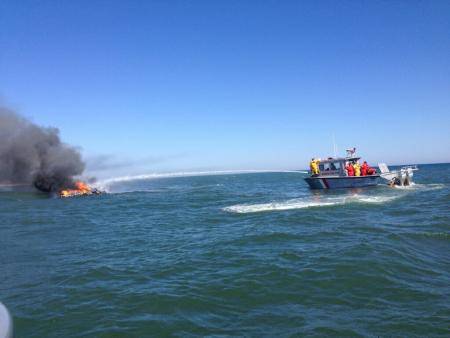 U.S. Coast Guard photo by Adam Long