The hull of Costa Concordia has to be steady and for that reason more floating caissons are on the way to the location of the shipwreck. The tragic cruise ship needs the support of the caissons which have left the port of Livorno and will be sent to the port of Carrara until their delivery to the island of Giglio (the location of the shipwreck).
Yesterday, in the port of Livorno began the first step of the plan for the transportation of the caissons, the first 2 tanks supported by tugboats and pilots are heading to Carrara. If the weather is good today, the operation will continue with the scheduled transportation of the other caissons. The parbuckling project has been planned to finish by the end of this month.
There are 17 steel tanks produced by Fincantieri (Italian shipbuilding company based in Trieste) waiting in the port of Livorno. 15 caissons were used in the previous stages of the parbuckling project. 13 is the number of caissons that are planned to be attached to the right side of the hull of Costa Concordia (more caissons are needed in order to float the ship).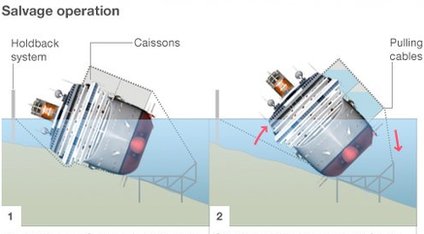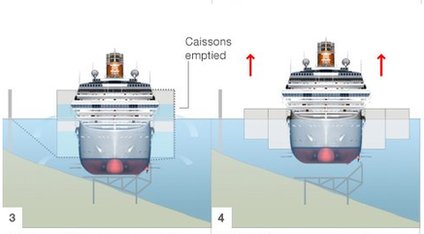 The new tanks have been planned to be mechanically attached to the hull of the cruise ship. The operation of setting up the caissons was lead by the local Gas and Heat company and the Emilia based Fagioli group, a company specialising in heavy transport and lifting systems.
Background information:
The parbuckling is complete, the operation of removing the shipwreck is in its final stage. The next steps are stabilizing the ship, preparations for removal, attaching giant tanks to both sides and the 114,000 ton Costa Concordia is planned to float off the platform seabed where it is cureently resting. Finally, the ship is expected to be towed to a port and to be dismantled for scrap.