M/V Cape Ray, the US cargo ship that was adapted to eliminate the Syrian weapons at sea, is ready to start the process of destroying the chemical arsenal. Syria agreed to give all chemical weapons to the end of 27 April, deadline imposed by the United Nations. The weapons have to be destroyed by the end of 30 June. The whole process is expected to take no more than sixty days.
Last year, the United States threatened to start a missile strike against Syria after a mass gassing of Syrian villagers on 21 August. Russia arranged a deal between Syria and the UN in order the country to evade serious sanctions. According to reports only 54% of the declared chemical weapons (1,200 tons) have been received, 43%, that are too dangerous and toxic, have not been sent for a commercial processing plant. Additional 550 tons of chemical weapons are waiting to be delivered by armed team to the port of Latakia.
Two ships ( from Denmark and Norway) are in position near the territorial waters of Syria to take the rest of the hazardous cargo. Once the rest of the chemical weapons are loaded they will be transported to commercial disposal facilities in Finland and Texas. The Danish ship Ark Futura will be sent (after the loading of the hazardous cargo) to the Italian container terminal in of Gioia Tauro. M/V Cape Ray is waiting at the port for the 48 hours trans-loading operation of 550 tons of chemical weapons.
The mission of M/V Cape Ray is to neutralise almost the entire Syria's arsenal of poison gas at sea. The adapted US cargo ship is equipped with Field Deployable Hydrolysis Systems (FDHS), which is carefully monitored by team of scientists. The process of neutralisation depends on the weather conditions and how calm the seas are. Some of the countries bordering the Mediterranean are very concerned about the transportation of the chemicals near their territorial waters.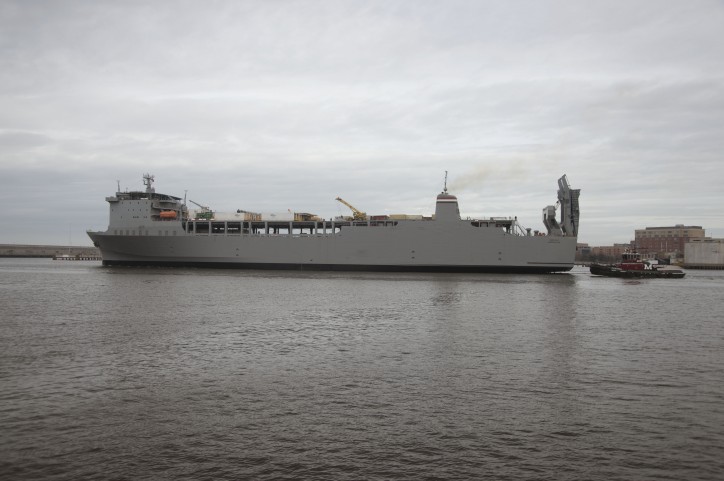 The process of neutralisation of the Syria's chemical weapons:
Syria has to prepare and to transport its chemical arsenal from different country parts to the port of Latakia. Russia has provided armored lorries, the United States has provided container drums and GPS locators.

Russia has agreed to provide security for the loading operation at the port of Latakia, US is taking part in the operation providing the transportation and decontamination equipment. China has dispatched ten ambulances and surveillance cameras, and Finland an emergency response specialists in case of any problems.

Norway and Denmark are taking part in the operation by sending two ships to load the chemicals and to transport them to the Italian container terminal of Gioia Tauro.

The US specially adapted cargo ship, M/V Cape Ray, is expected to end the operation by destroying the chemical weapons at sea.

Less-toxic materials will be transported by the Norwegian and Danish ships for disposal at commercial facilities.